Twenty-five Women Share their Long-Distance Cruising Experiences Women On Board Cruising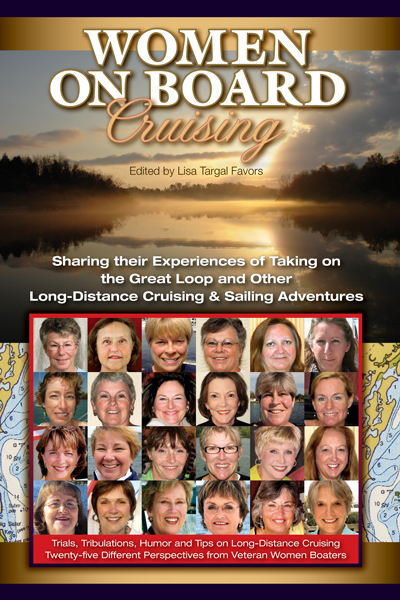 PAPERBACK EDITION
New Low Price!
      $14.95
Originally $24.95

VIEW CART  

For PAPERBACK Books Only!
Also Available in eBOOK Format at:
Amazon
 – $9.99
Twenty-five seasoned women boaters including editor, and long-distance cruiser, Lisa Targal Favors, of Traverse City, Michigan, are sharing the trials and tribulations of life aboard in the newly released book, Women On Board Cruising. Conceptualized, edited and published by Ms. Favors, the book is designed to inspire and inform women and their significant others who are planning on or just considering spending an extended period of time on the water.
The contributors humorously recount their very personal experiences and openly share life lessons learned about this little-known lifestyle. Several women tell their story with a rare, revealing vulnerability. Not all initially welcomed the thought of life within the confines of a boat but were cajoled by partners who had a greater desire and competence for this type of adventure. From doing the Loop (a boat trip circumnavigating the Eastern United States from the heartland rivers to the North Atlantic seaboard and Great Lakes) to sailing around the world, their stories are sure to warm the hearts of male and female readers alike.
The entertaining stories shared within this book would be of great interest to anyone who has ever considered a radical lifestyle change whether it s on a boat, RV or other means of transportation. These women are actually living many people s dreams breaking away from a well worn mold, they moved out of their comfortable homes and struck off for parts unknown enjoying all the surprises a long-distance adventure provides along the way. Surprisingly, it s not only women curious about this unique lifestyle, but interestingly enough, three quarters of the people who signed up to be notified of the book s release were MEN, many are giving the book to their wives or partners in hopes of getting them on board with them to share an adventure of a lifetime.
QUOTE LIFT
"After we disposed of a lot of stuff, put the rest in storage, sold our house and moved full-time onto our boat, Kismet, all of a sudden a tremendous feeling of freedom materialized. Wow! What a revelation! This new lifestyle was freeing in ways we never could have imagined. All of a sudden we found ourselves houseless, floating around on a boat. Now what?"
– Lisa Targal Favors, Traverse City, Michigan.
REVIEWS
Questions! Doubts! You have so many before you set out! Well, just when you d thought there was no one out there who understood you, along comes this awesome book, filled with warm women s voices offering clever advice, and helpful been-there-felt-that reassurance. It s like sitting down with a cup of tea and a support group of experienced fellow cruisers who can t wait to show you the ropes, and how cruising changed their lives and priorities.
– Bernadette Bernon, BOATUS MAGAZINE, and CRUISING WORLD
It is such a wonderful cross-section of women on boats – The stories address the common questions we all have; I well remember I had the same concerns and fears when my husband and I left our security to go cruising, and wish I'd had a book like this to ease the way for me. I really think this is a must-read for anyone who's considering going cruising, men and women alike. These stories offer insight into and solutions for so many of the perceived cruising problems and show women that they're not the only ones who have ever worried!
– Captain Patti Moore, SEA SENSE The Women's Sailing & Powerboating School
From Mamas to tomboys, princesses to presidents, Women On Board Cruising opens a porthole for an inside look at how boating can create life-changing experiences for women from all walks of life. North, South, East, West… these are ladies from all corners of the U.S. and Canada that share the passion of cruising. With humor, emotion and unique insight, Women On Board Cruising covers tips, information and great stories empowering us all to say, I can do this.
– Christy Martin, LIFE ON THE WATER MAGAZINE
ABOUT THE AUTHOR
Lisa Targal Favors, with over 20,000 cruising miles under her belt aboard the trawler Kismet, currently serves on America s Great Loop Cruisers Association (AGLCA) Advisory Council, along with husband, Jim, writes twice-monthly articles for BoatU.S. Online Cruising Logs and maintain a popular cruising, adventure blog (favorsgreatloopblog.com). The Favors have also edited and published two more boating books, When the Water Calls… We Follow, a book written by 27 boaters detailing their experiences while doing America s Great Loop boat trip. Upside of Downsizing to a Trailerable Trawler, details the advantages of boating on a trailerable boat.
Women On Board Cruising
PAPERBACK EDITION
New Low Price!
      

$14.95



VIEW CART  

For PAPERBACK Books Only!
Also Available in eBOOK Format at:
Amazon
 – $9.99