Who Scheduled this Event?
As we're retracing our steps so we can tour the Holocaust Museum we come across a road block. We looked up and down the side streets and we saw police blocking traffic at all the intersections. This can only mean one thing, the Presidential Motorcade is close at hand.
We stopped on the curb just two blocks from the White House, and here comes the twenty-vehicle motorcade… motorcycles, ambulances, assault vehicles, a tricked out communications vehicle and of course two Presidential Limo's and they come within ten feet of where we're standing. Ok this is twice, once by helicopter and now by Motorcade, that the President has zoomed us… I think he may be stalking us!!!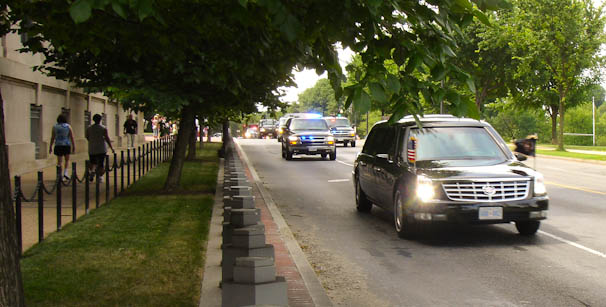 It was exciting to experience the motorcade while touring the nation's capitol it almost felt like it was a planned event on our tour schedule.