Two Nights in Everglade National Park
Night One

– Russell Pass Anchorage

We took the inside route through Marco Island today to Russell Pass in the Everglades National Park. We have always wanted to do this route to the Keys, so this is new territory for us. Our first Loop took us through Lake Ockeechobee  to get to Fort Lauderdale so that we could cross over to the Abacos. We just did not have time to do the Abacos and the Keys in 2006. This time we will do both. One month in Key West and six to eight weeks in the Abacos.


It was a beautiful anchorage tonight, quiet and serene except for the few fishing boats nearby. What they say about the bugs here is really true and even though it was hot and muggy we had to not only close the doors, which we usually leave open till it cools off later in the evening, but had to close all the windows as the no-see-ums could climb right through the screens. If you are familiar with these pesky bugs you will know that they can be a real bother as they pack a stinging bite. So we could not go outside much to look at the stars, just quick little darts out and back in and we could not even leave our stateroom windows open so that we could hear the noises of the wildlife outside our boat while we slept. So, that was a little disappointing for us.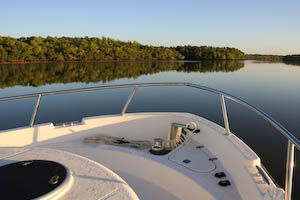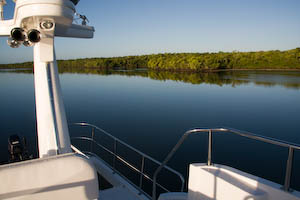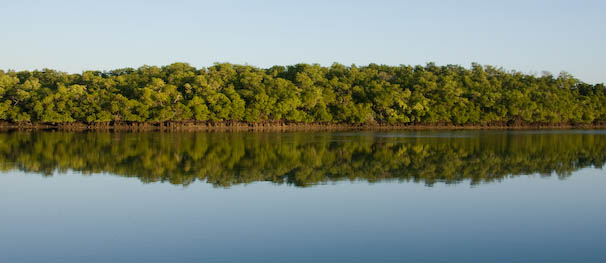 Night Tw

o
– Little Shark River
As we follow the Everglades down the coast we come to the much talked about Little Shark River. After anchoring we got the dinghy out and toured the surrounding area. There are a few fishing boats here. We saw one haul out a huge grouper.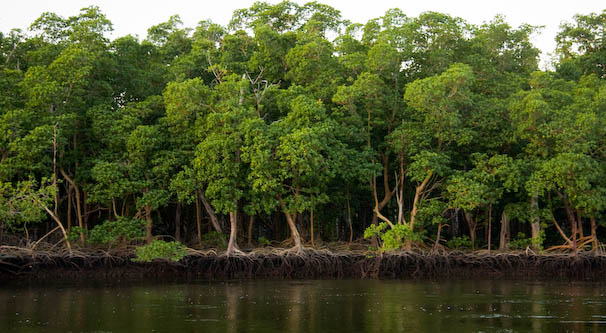 We have been in southwest Florida since the beginning of December and have been dying to see an alligator. It certainly has not been for the lack of trying but we still have not seen one, not even in the Everglades.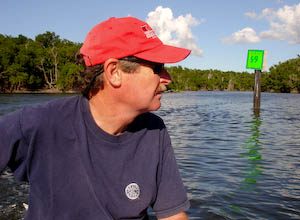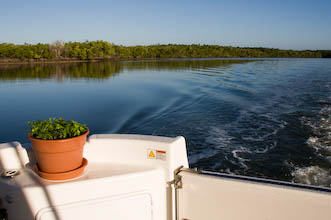 Back at the boat we decided to put chairs on the back deck and stay outside while we could until "bug time" to watch for whatever flew or swam by. Just watching the tide come in and out can be entertaining. Our big sighting tonight was a HUGE turtle which went back and forth around our anchorage. Maybe he was as curious about us as we were about him. The birds were plentiful. We saw lots of Ibis and one beautiful Great Blue Heron. We wised up today and had a really early happy hour, 3 PM knowing that the bugs would chase us inside at dusk.
Jim entertained us later on by getting the spotlight out so that we could at least see the red beady lights of the Alligator's eyes. No luck, we think they all are on vacation or something.