We arrived here last Wednesday and planned a couple of nights stay at most. In reality, tomorrow we will have been here a week now. Jim says that it is time to go.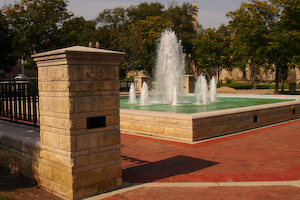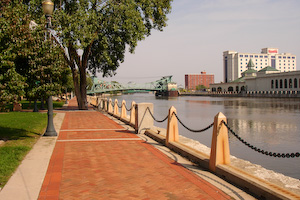 We have been waiting for better reports from the powers that be on the river as to whether we can get very far south or not. Every morning we wake to different lock or river closings or delays. The aftermath of the flooding has put a little wrench in our schedule but we are making the best of it. We have enjoyed being tied up to the free dock in Joliet, Illinois. We've had power and water. The weather has been amazing, everyday sunny and in the high eighties, the evenings in the seventies. Best of all we have had the pleasure to be joined here by a great group of Loopers and other travelers. But the water calls and there are so many places to see.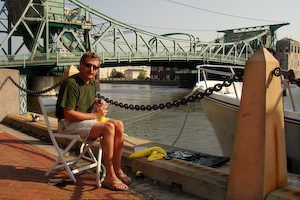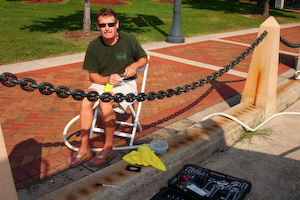 We have sat here for a week and watched the tugs carry their cargo north and south, we have partied and explored. We have been entertained by the sounds of Joliet: the whistles on the bridge, the nearby Mexican music and rock music at the End of Summer party at Harrah's. We have gotten caught up on the boat chore list. We've watched debris float by here in the direction we wish to be going ourselves.
Tomorrow morning (Wednesday), barring any new negative reports we will shove off with a couple of other boats and head for Heritage Harbor Marina.