Some of Our Favor "ite" Things – Useful Boating Products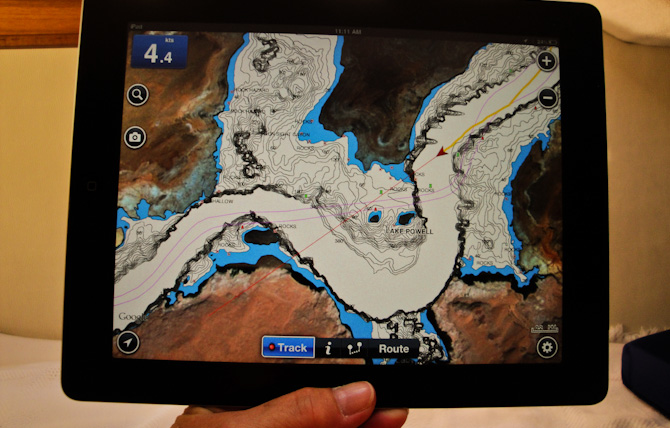 It can be maddening trying to find, buy and then store all those chart books we boaters need for long-distance cruising. We've always felt it was important to have paper charts as a back up to our GPS chartplotter as well as for route planning. The downside of paper charts/chart books is storage on a boat as well as having to maintain reasonably updated material. While going through our transition from a 40-ft live aboard, with tons of storage, to our new 27-ft trailerable Ranger Tug R27, we wanted to come up with an alternative for backup charts. Our solution is the i-Pad 2 along with a Navionics downloadable Marine and Lakes app (optimized with HD)!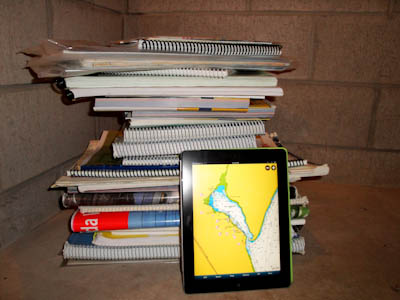 The advantages for us to acquire the i-Pad 2 are many, including:
SIZE:  All charts available on a device that is no larger than a magazine – saving precious storage room.

PRICE:  At $700 for the i-Pad 2, it's less money than you'd pay for all the charts you'd ever possibly need.

FLEXIBILITY and VERSITILITY: You can take all your charts with you anywhere, easily, on or off the boat. Use the Internet to look up a territory or download the chart ahead of time to use when you don't have Internet access. After you've downloaded your charts it can be used like any charts without an internet connection more versatility. With an internet connection you can use the i-Pad w/Navionics app just like your onboard GPS, with live chartplotting capability Beyond the navigation usage you can download a whole library of books and use it as a book reader.

MORE INFORMATION:  The Navionics app also has information on marina's, marine repair ad restaurants along with measurement, tracking and route tools.

TIDES and CURRENTS:  With an Internet connection the Navionics also has the up to date information on tides and currents.

UPDATES:  You never need to worry about outdated charts/chartbooks, its all updated periodically, automatically.

QUANTITY: All navigatible lakes, rivers, bays and sounds that are inland or along the ICW routes in Canada and the US are available to download at a one time price of $30 to $35.
I could go on and on about the vertues of the i-PAD 2 Navionics app but suffuce it to say we're very pleased with this new technology and how it will make our boat lighter and more efficient