Sarasota – Our Son Bart Joins Us For A Week
We were so excited to arrive at Marina Jack in Sarasota early on another beautiful morning. Tonight we picked Bart up at the airport and he will join us for the Christmas holiday and a week's worth of boat travel. We spent most of Saturday shopping, stocking up and waiting in line at the Post Office. Sarasota is a beautiful, clean city, a real people place. We loved walking around here and even the driving was enjoyable.  Lisa did laundry while the guys used the rental car, while we still had it, to visit the Ringling Circus Museum.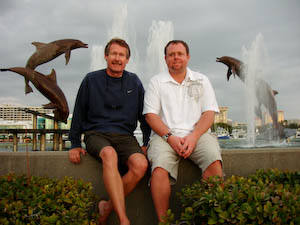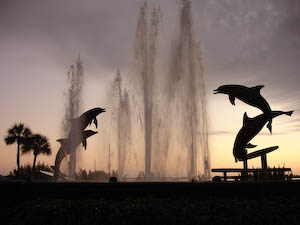 Last summer Susan Dabney visited us in Charlevoix, Michigan (our home port). She had been reading our blog and wanted to meet us since she was currently doing the Loop in stages. Since she was visiting family in Charlevoix she decided to stop by and introduce herself. We promised her that we would look her up when we got to her home town of Sarasota. We did just that and Sunday night we had another delightful visit with Susan.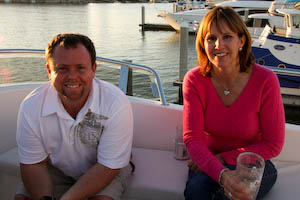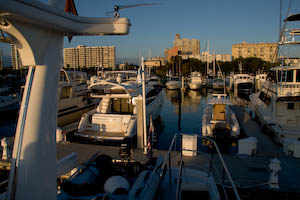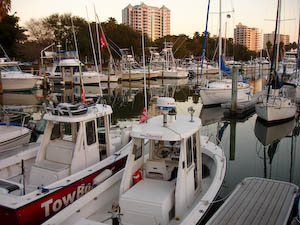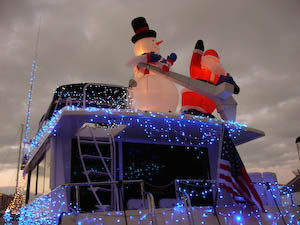 Marina Jack is a very nice marina with lots of friendly boaters. There is a nice park that separates the marina from the ICW giving the walker a lot of opportunities for exercise with a view of water and every imaginable kind of boat. There is a lively restaurant on the premises and we were docked close enough to hear the live entertainment every night.