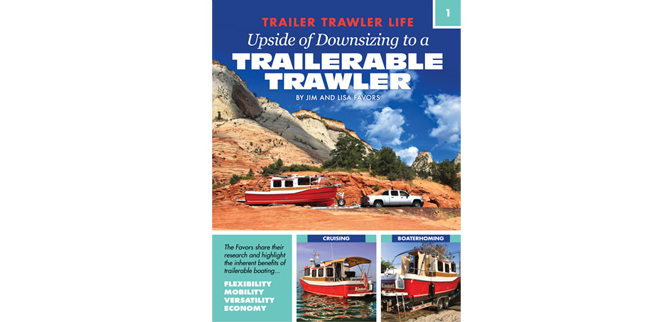 PassageMaker Magazine Book Review
Living the Dream–
by Milt Baker–
PassageMaker Magazine–
Reading this e-book, I couldn't help but wonder how many cruisers might be tempted to follow the example set by Jim and Lisa Favors, a couple with thousands of miles of Great Loop cruising experience who, after five years of full-time living aboard, gave up their comfortable 40-foot trawler for a trailerable 27-foot Ranger Tugs.
Like many other PassageMaker readers, I've gone aboard boats like this at boat shows, asking myself whether my wife and I might someday want to downsize and try to squeeze into a smaller boat. A trawler yacht that can be towed over the highway and cruised in many different areas each year, avoiding long passages over water. After all, it's a whole lot faster and cheaper to cover the distance between, say, Ft. Lauderdale and Halifax or San Diego and Seattle at 60mph, compared to displacement speeds. "One of the beauties of this plan," the Favors wrote as they were planning their move, "is that we'd be able to cut out a lot of long boat travel days by driving to the heart of a spot and dropping the boat into the water."
See full review here Living the Dream, by Milt Baker, PassageMaker Magazine
EBook available on Amazon, iTunes and Nook Books.