Last summer before we left our homeport of Charlevoix, Michigan we made plans with a few of our friends to meet in Key West near the mid to end of January. Last time we did the Loop we all planned to meet in the Abacos and it was so much fun we had to plan to meet again this year. We were pretty busy our last week in Key West while our friends from home flew in within days of each other and we tried to cram in as much face time as we could. We did a good job and lots of good memories were made.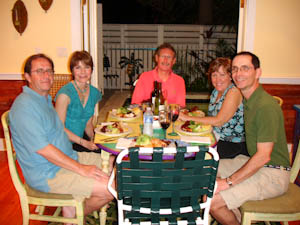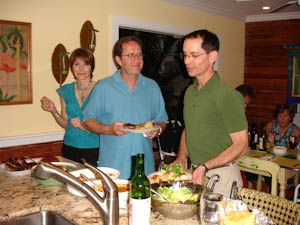 Above Left: Rick and Elene (Jim) Jean and Gary. I (Lisa) am, of course taking the photos tonight, but I really was there. Rick and Elene put together a BBQ dinner, a feast really, for us to enjoy tonight. They have rented this cute little house in Old Town for the winter.
We visited Jean and Gary at their winter rental home just across from the cemetery and later Gary helped Jim with his fishing gear. Then we said goodbye, Jean is staying, Gary is going home and we will be leaving on Monday to head up to Marathon.