It was a short drive from the boat launch at Point Defiance to our destination of Gig Harbor. Well, it did take a little longer than needed because the water was smooth, the wind was so warm and we yearned to just cruise – but our schedule dictated that we move along and arrive Arabella's Landing Marina in Gig Harbor sooner rather than later due to an MTOA happy hour scheduled for 5:30.
We signed up for this MTOA Rendezvous last winter and are so excited to finally be here. We've only been to one other MTOA event, it was in Crisfield, Maryland. That rendezvous was so much fun we had to sign up for the one out here. The east coast  rendezvous are big productions and can have as many as 200 members in attendance. The PNW group is smaller, but a growing membership. MTOA is a national boating organization run solely by members who volunteer.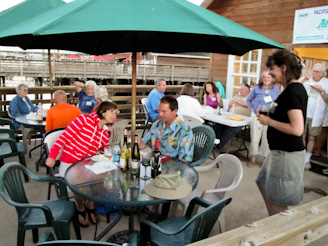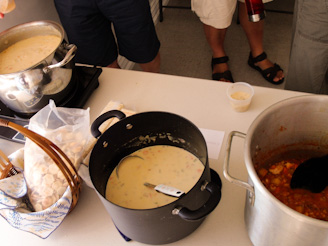 Every evening presented more opportunities to exchange boating information and stories. Saturday was the PNW MTOA Chowder Cookoff. This year's winner was Debora Daly (winning chowder sits in the middle- above, center).
First night of the rendezvous we were warmly greeted by Sue and Bruce (above-left) on Meridian Star, a North Pacific trawler. Sue is a regular  follower of our Boat U.S. Cruising Logs, so she had the advantage of knowing a little more about us than we did about her.
Our morning walk took us to this scenic view at the southern end of Gig Harbor (above-right).

We really can't say enough nice things about this event in Gig Harbor. A lot of the attendees knew each other already but we have to say that we received a very warm welcome and immediately felt right at home, just as if we were among our dock mates in our homeport.
The north end of Gig Harbor is a short walk from our marina (above). We heard about the Tides Restaurant (below) even before we left Kent, Washington.