Becoming Too Familiar with Jellyfish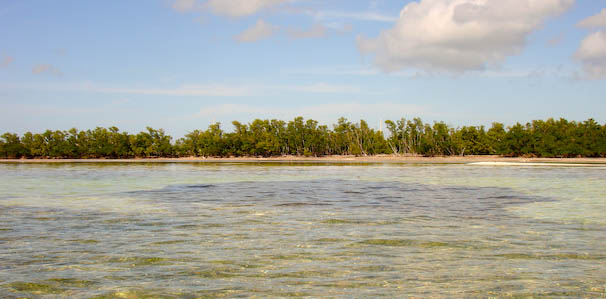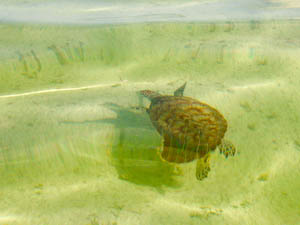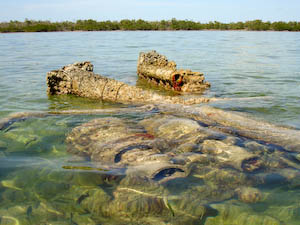 A few days ago, Lisa and I ventured out in our dinghy to the protected Sand Key reef area in the Atlantic Ocean side of Key West to go snorkeling. The day had all the characteristics of the perfect day, clear blue sky, calm waters and no wind. On the way to our destination we saw a good sized turtle, feeder sharks, crabs, flower pot sponges and lots of fish from the dinghy in only 4-5 foot water depths. Our goal was to find one of the sunken boats just offshore to snorkel around. This one (see photo) was easy to find since parts of it stuck out of the water. There were quite a few colorful fish swimming around the boat so I jumped in with my snorkel mask on and set our dive flag in the water to float nearby. However after fifteen minutes or so, as I was returning to the dinghy, I suddenly felt a very sharp pain and boy did it hurt.
Ouch!!!
I threw my foot up on the dinghy ahead of me for Lisa to check out what had happened and she saw what looked like tracks all around my ankle with a little bit of film attached. It appears that I was stung by a jellyfish. I think that it could have been worse but that thought did not help much while trying to soothe the stinging discomfort. immediately we tried the only thing we could remember to do for this kind of sting and that was for me to urinate onto the area. It seemed to help a little but when we got back to the boat we tried another remedy which was soaking the wound in vinegar for thirty minutes. Well, we just happened to have a couple of gallons of vinegar on hand so in the bucket goes the vinegar and my leg. I added the beer myself, it's probably the thing that helped the most. The pain lasted about twelve hours.