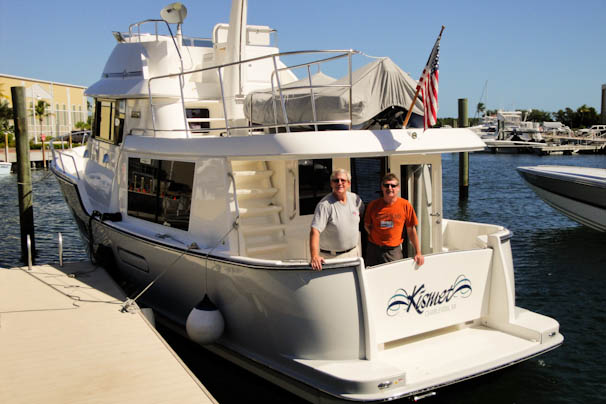 Kismet leaving the dock at Stock Island in the Keys with Tab, the new owner, and Jim. We helped Tab take the boat up the Florida coast last month. If you see Tab and his wife Susan on cruising the ICW give him a shout.
This may come as surprise to many that follow our blog; we've sold our Fathom trawler, Kismet! After five years of a full-time, liveaboard lifestyle while traveling the waters of the U.S., Canada and the Bahamas' meeting wonderful people, making lifelong friendships and at the same time, learning a about our country's heritage, we decided to return to Traverse City, Michigan, at least for half the year.
We recently came to the sober realization that we needed to feel some dirt between our toes and more face-to-face time with family and hometown friends. We also started to feel a sudden, burning, and almost mad desire to host a full-blown family holiday get-together with all the fixings. I guess we could best describe the newfound revelation we're having this way… Just as the all consuming and passionate need overtook us, over five years ago, to sell a lot of our accumulated "stuff" and head out for parts unknown as free spirits – now we're starting to feel the pull as the pendulum begins its swing back. We became more aware of our need to reconnect with family, hometown friends and experience again all the good things about being landlocked.
We've been home now for over seven months becoming reacquainted with our community, being with our family and friends and having a ball. Our boating plans, although on a little bit of a hiatus, are to purchase in the near future a trailerable trawler so we can further explore the waters of the United States and Canada. We plan to not only return to places we've been before, and could not get enough of, but we also hope to venture out to places that would have been harder (expensive) or impossible to get to in the bigger Fathom trawler like:  Lake Powel, The Yellowstone Lakes, Lake Champlain, San Juan Islands, etc. This will afford us a little more flexibility in our boating lifestyle. So, you see, we have not completely lost our senses.
Check back soon for more details on the decision making process as we research and explore the trailerable trawlers available and why we picked the one we'll use on our future boating excursions. We look forward to sharing more stories on our traveling adventures once we "hit the water" again.
Good-bye Kismet!