We Have Arrived… Solomons, Maryland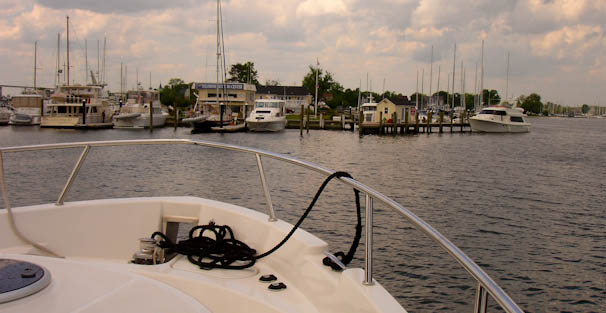 On tuesday we arrived at our 2009 summer homeport in Solomons, Maryland, a little later than planned due to continuing windy weather but it was only a one day delay.
We pulled into the Solomons Yachting Center and were welcomed to our slip, B5, by Quentin the harbormaster. Not many people around here yet but we can imagine that this place is really hopping after Memorial Day.
There are so many marinas and boats here, predominantly fishing boats and sailboats. We are curiously exploring our surroundings and imagining a delightful summer cruising on the Chesapeake Bay and surrounding areas.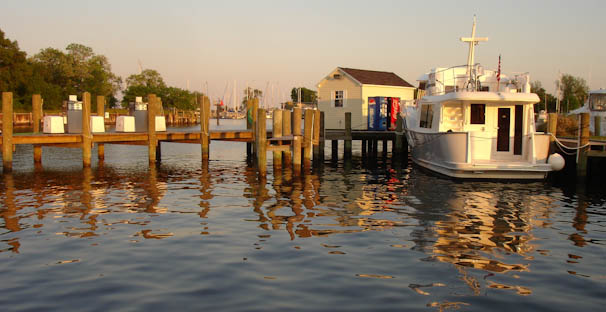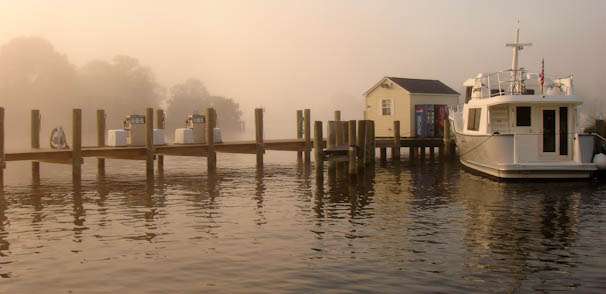 If you examine the photos above you will see a Fathom 40 pictured. This is not our Fathom, Kismet, but another Flybridge-less model docked right across from us. Jim is going to open up the HarborView Yacht Sales office here in the Solomons this summer while showing the Fathom Yacht to prospective buyers. Our friends, Ric Garton and Billy Allgaier own HVYS and being owners, of a Fathom, ourselves we have a lot of insight into the value of owning one of these beautiful boats.
So, Jim is going back to work, just for the summer and here he is one his first day, going to his "Office" on the other Fathom 40 (and yes, he still comes home for lunch).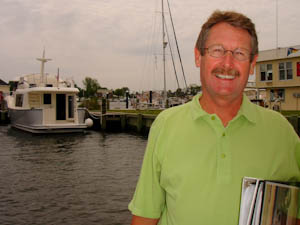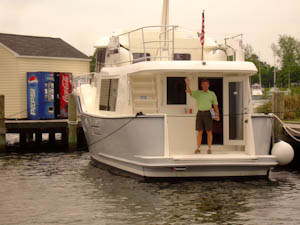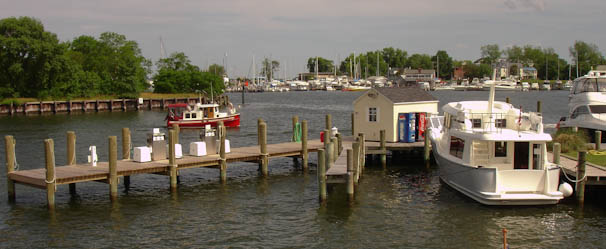 Charlie and Linda, on Freedom's Turn, came a few days after we arrived and we got to spend some time together before they proceeded north and eventually finishing their Loop in Michigan. When we went out to dinner we decided that since none of us knew anything much about eating crabs that we should try this Maryland treat. It certainly was an experience for us "northerners."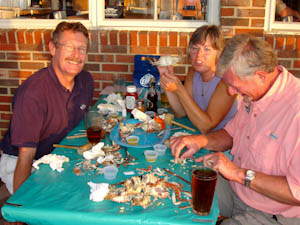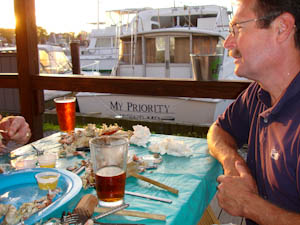 The night before Charlie and Linda left we had them along with Les & Judy, on Voyager II, over for a cookout/potluck. Just before sitting down we realized, by some strange chance, that five out of the six of us were "lefties." Guess who's not one.