Time for Some Boat Maintenance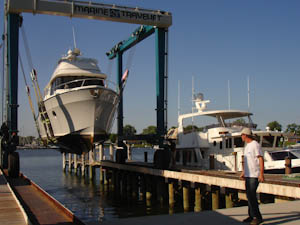 Maintenance, that ounce of prevention is worth a pound of cure came together all at once for Kismet, upon our Solomons arrival. First order of business was to change the engine oil and filter, fuel filters, engine zincs and thoroughly clean the engine room. Completed we headed to Washburn's Boat Yard to have Kismet hauled out of the water where they immediately power washed the bottom of the boat the clean  as much of the barnacles and slim from her underside, boy was it a mess after 4,500 miles of travel. Once blocked up the hard labor of scraping and sanding began, which took the better part of the first day and as I was labor my body was quite sore the first night. I also had Washburn's take our 5 bladed prop off to send in. Although there was no visible damage my thinking was that after 750 hours of travel it most likely needed to be tuned up to specs for the smoothest possible ride.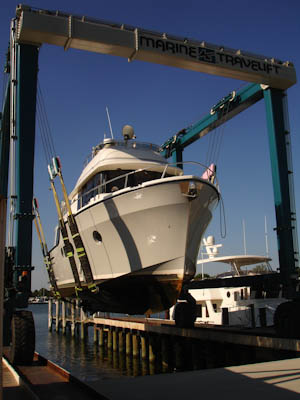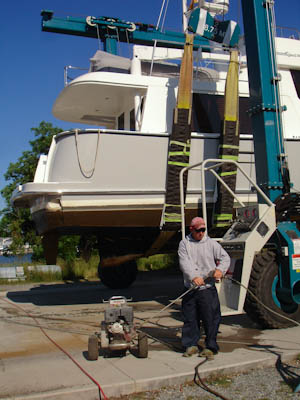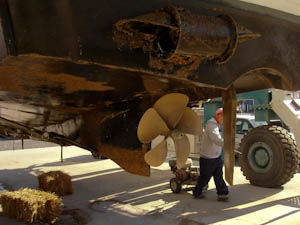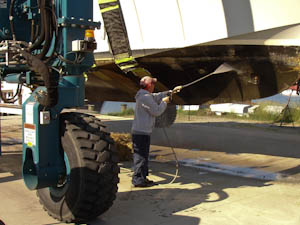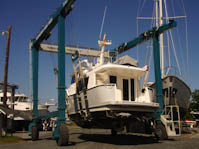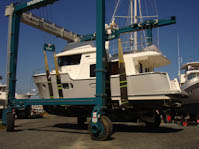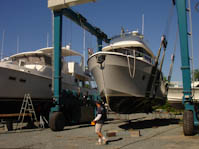 Day three the second coat of bottom paint was applied and after 8 hours of dry time I added an additional coat to the leading edges. When the prop was returned on day 4 and looking like new I had the professionals at Washburn's reinstall it for the launch the next morning. Our Kismet has never looked better!
As the boat was gently set back into the water I opened the seacock's and started the engine feeling all along how nice it is to have our boat back where she belongs, in the water. It felt great to have a quality bottom job done, new zincs, oil and filters in addition to a freshly tuned up prop. When all was said I had a lot of sore mussels, 5 scabbed over knuckles and my back hurt but I had the satisfaction of a well done job and by doing the work myself we had a savings of 60%, money we can use for cruising.