Three Nights in "Paradise" – Silver Glen Springs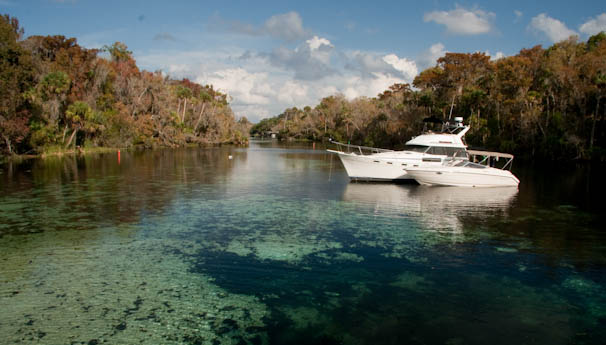 After another leasurely morning and with no exact destination in mind other than turning our boat around and heading north towards Jacksonville, we decided to make a big day of it by traveling 34 miles to Silver Glen Springs, just off Lake George.
We weren't sure we could make it into this reportedly shallow area but we were determined to give it a good try. Wow, are we ever glad we did.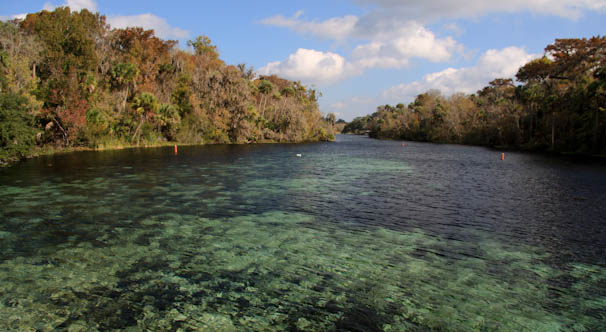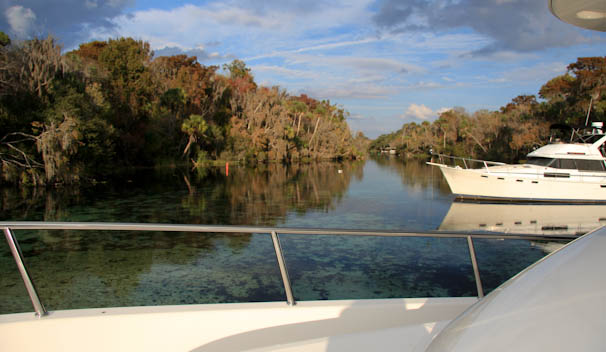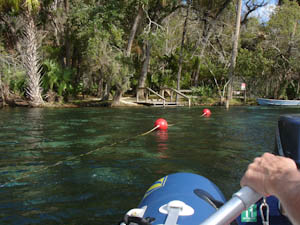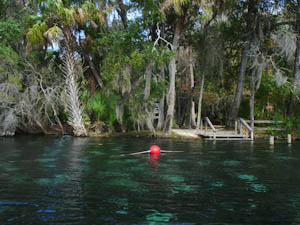 Silver Glen Springs goes about three-quarter's of a mile east off of Lake George and because we did not have clear directions on how to get into the spring, I called TowBoatUS to get instructions. Even with their instructions it was still tricky maneuvering through the channel. Not so much in finding the place but in finding water deep enough to get into the springs as the entrance is not well marked.
You are supposed to stay (when approaching from the south) on the left side of this marker (which has two blue reflectors just below the sign) when coming into this channel. After that there are not many markers to help you inside.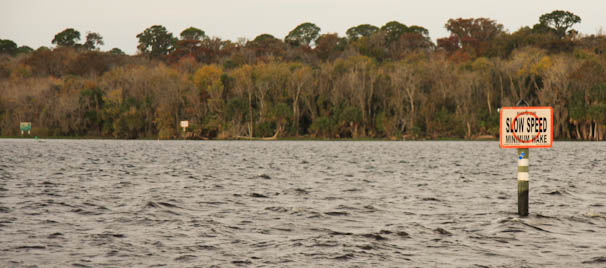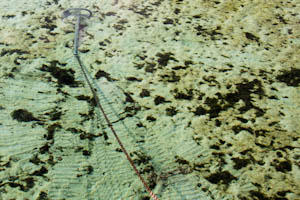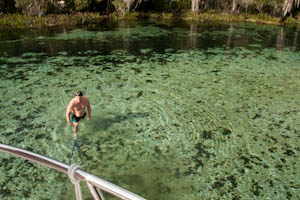 We draw 3.5 feet and we were told this would be no problem. Well, luckily, we found the water that was right at 3.5 feet, so it was a good thing the bottom was soft sand. We forged forward and finally found the deeper water (6 feet or so) and with the help of Larry, a local and regular visitor to the springs, who was anchored nearby.
The water is very clear, as you can see in the photo of our anchor set in the sand (above-left). Although we have seen our anchor in clean, clear water in the Abacos this is the first time we have been anchored in such shallow water so we could see our anchor very well.
Silver Glen Springs is, as it name implies, a fresh water spring. Fresh water pushes up from the earth and feeds into Lake George, the water is a constant 72 degrees year-round. With the cystal clear, warm water and mostly sandy bottom it all made for great swimming, even for Lisa. Our boat rested at anchor in 5-6 feet of water.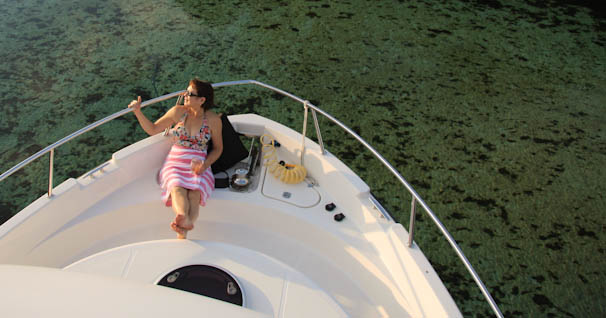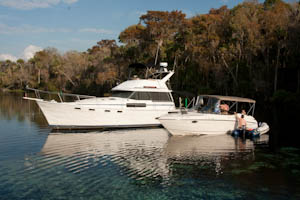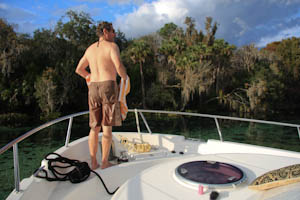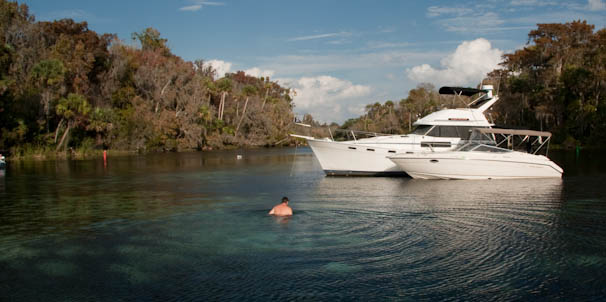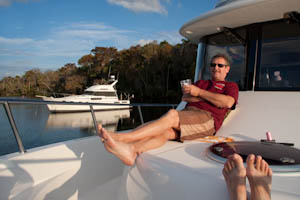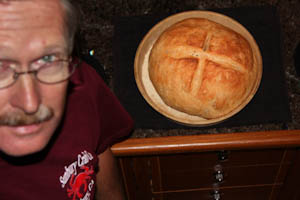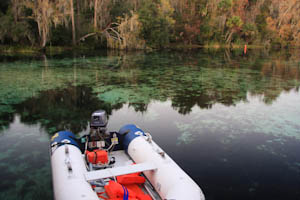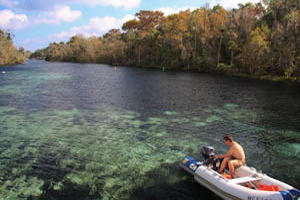 We read, swam, played games and got caught up on some chores, Lisa even made some sourdough bread.
Sometimes we get tired of always traveling to get somewhere or we are usually tied up to a dock in a marina, with towns to explore, for extended stays. But a real treat for us is to anchor out in a beautiful spot for several days, it really gives us time to just relax.
This stop was an extra special treat because we could swim in the crystal clear water, sun ourselves on the bow, watch the fish, who were constantly jumping out of the water to catch bugs. We also became familiar with the resident birds who glided through the air from one side of the spring to the other. The sounds of all the wildlife activity serenaded us all day and night. What a treat.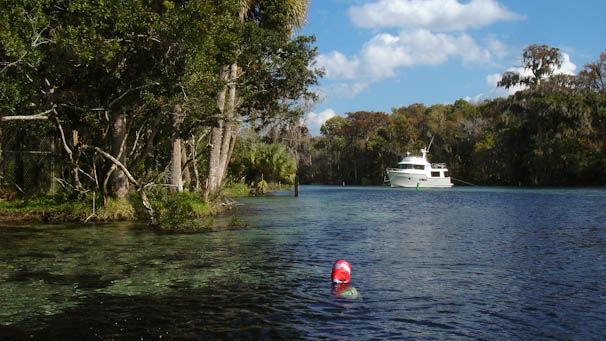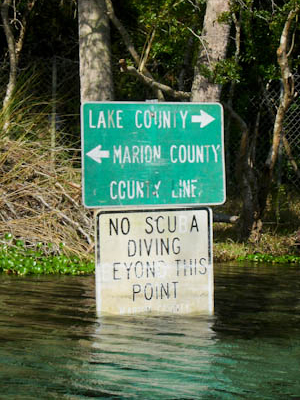 Apparently the county line is right here almost to the, far eastern, end of the spring.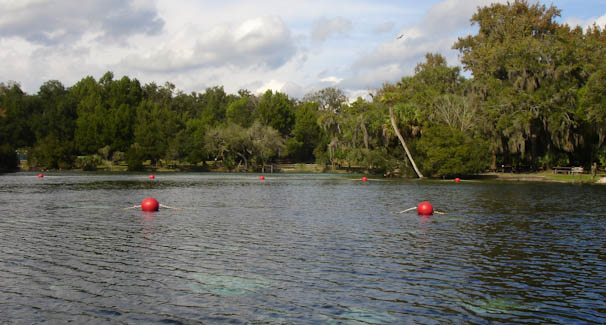 I (Jim) took advantage of the conditions to break out my mask to do a boat bottom inspection. I cleaned barnicles off the prop and rudder, checked all the zincs and thru hull strainers and found the bottom paint to be in great shape. This is something I have not been able to do since the Bahamas, that's how clear and clean the water is. Silver Glen Springs is a very special place. So special in fact that Larry told us he's been coming here every Tuesday for 14 years (check out his website – 2sdaze.com). He has a theory about this spring being the fountain of youth, so he likes to be a regular visitor.
There are a few boats that look like they call the springs their year-round home, mostly houseboats and we met George (a permanent resident) when he helped Jim with our dinghy motor, which had decided to be temperamental one morning when Jim took off in it.
We thought the TowBoatUS sign on this houseboat (below-left) was quite ominous and a big a reminder to boaters to keep a careful eye on where they are in the spring.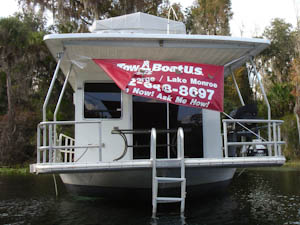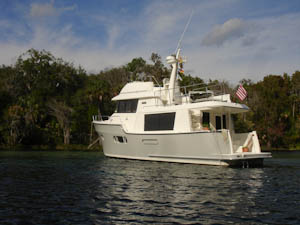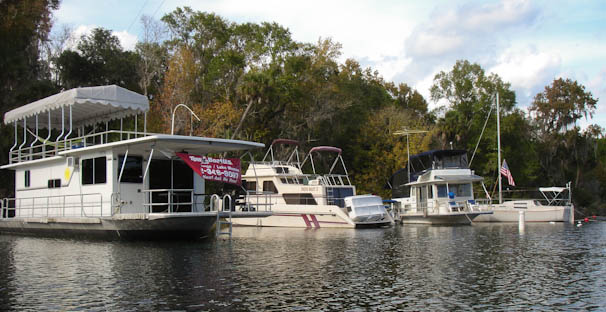 We rowed over to the park and designated swim area of the park where the hole to the springs was. It was windy that day but we got in another swim and did a loop around our anchorage area. We found it so relaxing we decided to spend three nights, all the while hoping that we'd find the right route on our exit back out into Lake George!