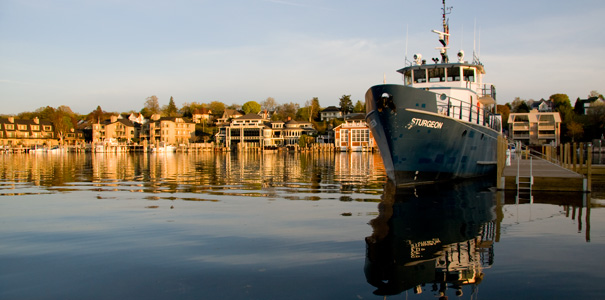 Summers in northern Michigan have the same number of days as anywhere else; it just seems shorter when 35˚, May evenings linger on towards Memorial Day. Couple this with how fast time seems to march on and you realize that you had better enjoy the warm days, when they come, before it is over.
Summer here can be compared to a fourth of July fireworks celebration. The crowd slowly builds in preparation for the big event similar to how vacationers descend on their favorite destinations, as the weather gets warmer. Both events start slow and keep building until you get to the grand finale. Then things quiet down, the crowds disappear and before you know it Labor Day is knocking at your door and people are starting to put their boats away. For us in northern Michigan the height of the season is from July 1st through mid-August.
As we are enjoying summer we'll also be preparing for our early September departure on the Great Loop. Three and a half months is plenty of time to prepare for a long voyage, however, we think that we will start to make a list of what needs to be accomplished well before we depart, so we can avoid a tension filled, anxiety ridden final month.Here's just a partial list of what we'll be working on over the next three and a half months. As we tackle the more important items we'll give an update on the blog as to what we did to help make our life easier while away from home for so long and our reasons for doing so.
AGLCA- Obtain or Update Membership- Review Benefits
Consider Obtaining a Captain's Licence
Boat Maintenance Prior to Trip
Insurance: Boat & Vehicle
Electronic & Communication Needs
Extra Equipment
Research Trip Beforehand
Electronic Bill Payments
Medical
Mail Forwarding
Car Storage
Stocking the Boat
Documenting the Trip
Arranging for Guests
Providing Space for You and Your Partner