Second Trip to the Fathom Plant to See Progress on Kismet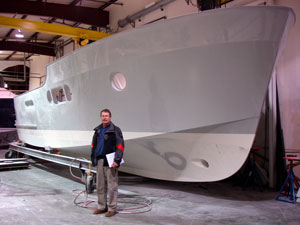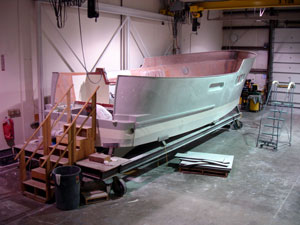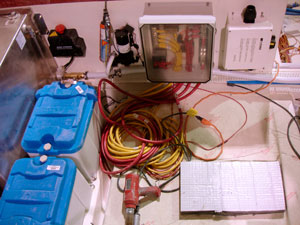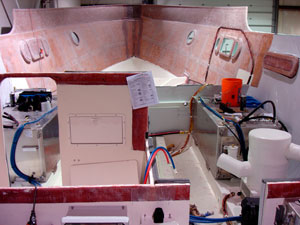 We made our second trip to the Fathom plant and were pleasantly surprised at the amount of progress made in 7 working days.
Top-left – Jim standing next to the boat gives you a good idea of expedition design. The bow thruster has been installed and the holes have been cut for the windows.
Top-right – Here you see the completed hull's aft exterior without the swim platform installed.
Middle-left – A close-up photo of the lazarette area. Storage in the center with water tanks to both the port and starboard along with some of the many battery boxes.
Middle-right – The two stainless steel tanks you see here are the fuel tanks inside the engine room and to the rear of the starboard tank you see part of the exhaust system. As you can see they have started to run the start of the wiring – however what you do not see that has been installed are the rudder, drive shaft housing, water strainer and holding tank.
Bottom-left – After 7 years of dragging a 50 amp power cord off and on our Silverton it will be a treat to have the Glendenning Cable Master on our new Fathom. You can see the system in the lower right corner of this picture.