Santa Rosa Island Anchorage
With the leak fixed we were able to leave early this morning for an anchorage by Elgin Airforce Base, Santa Rosa Island, which is six miles west of Fort Walton Beach. We were just on the other side of a barrier island which is the only thing that separated us from the Gulf of Mexico. We are seeing more and more dolphins now as we head east on the ICW.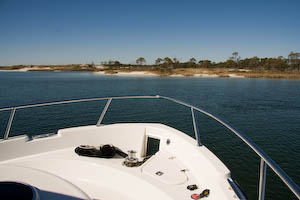 We were close to the landing path of those gigantic military transport planes, the ones that carry tanks, trucks and troops. Our Military pilots must have been practicing their landing skills as we watched no less than fifteen land that evening about 30 minutes apart.
As the sun set into the clear western sky, the horizon came alive in brilliant oranges and yellows. As the sun was setting, we were surprised by Taps being broadcast on a, very loud, speaker system – however we could not see any signs of life from where we sat in the water. We like these kinds of surprises it usually makes an anchorage or dockage in a new place that much more memorable. It is starting to warm up where we don't need the heat on and lately we have been able to leave the portholes open at night.