Sand Key and Hurricane Hole

Yesterday we took a long dinghy ride all the way around the Key West Island. It was a little choppy on the outside and we got a little wet but we enjoyed seeing the Portuguese Man of War Jellyfish float by us using their gas filled bladders to catch the wind. Today, we took the boat out to Sand Key (sorry, Lisa lost all the photos on the card today) to go snorkeling, however the water was a little too choppy to see much and Lisa got seasick so we'll have to make another trip, unfortunately without Skyler (who has since returned to the frozen tundra of Michigan).
We went to Hurricane Hole for a fun dinner. There was a lot of activity as the fishing boats and some very good entertainment along with a good dinner and a friendly waiter.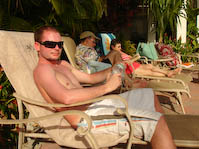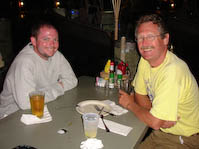 With all the new rules on baggage weight Skyler was concerned if he would be within the limit after we added a box of books to his bag, so we came up with this great method of measuring the weight since we did not have a scale on board.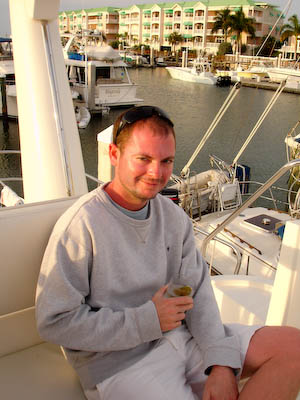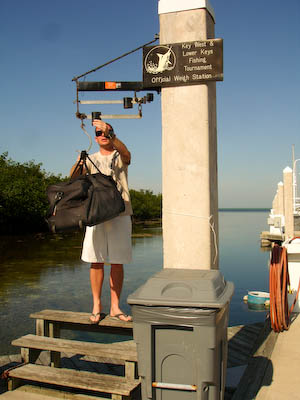 Yesterday, Skyler got a glimpse into the mechanics of a Looper's transportation methods to the local grocery store.
We all hopped into the dinghy and headed around the bottom of Stock Island over to the Key West side and the big shopping center right on the water, however, no dinghy docks anywere to be seen so we had to be creative. The nearby restaurant was not receptive to us tying up there so we just made a little tie up in the middle of some mangrove trees right by the highway, across from the Publix store. It worked very well and this will probably be our method of provisioning while we are here. It will be faster than taking the bus.