Retracing Our Route – Downriver Bound
 We had to leave Chattanooga this morning due to a busy weekend Skulling race and a booked marina.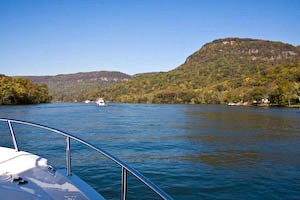 So first night out, after retracing our route through the beautiful Gorge area, we find ourselves back at the Little Cedar Mountain anchorage to enjoy a spectacular evening.
We celebrated the Wade's Anniversary (Diane here with her friend Mimi) and their friend Frank's birthday with Bloody Mary's on top of Kismet where the view was shockingly beautiful. This fun time was followed by Happy Hour on C-Life.