Oriental Yacht Club – Oriental North Carolina

First time to Oriental, NC for us. We arrived today in very windy conditions and were relieved to have crossed the open spance of the Neuse River to get tied up before it got even worse. This is a cute little town, a favorite of the sailboat community.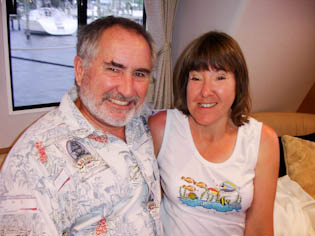 Our friends Wade and Susie Ehlen, on Miss Happ, drove over from their home in New Bern for a dinner out and a nice long visit. Our last time through this area by boat we had the pleasure of docking our boat in front of their house, while we went home for our son's Skyler's graduation in Michigan. We plan to do some cruising in the future with them as they are going to start their second Loop sometime after their RV trip to Alaska this summer.
Used today to catch up a little on chores. Took a long walk to check out the town and did a little shopping. Hoping that the winds die down so that we can leave tomorrow for Bellhaven.