Key West – Feels Like Home Away From Home
Mike and Lynne's visit just "whet our whistle" for a taste of home. When you're on the water, in our case for 5 years, and end up staying in one place for any period of time it eventually starts to feel a little like a home away from home for us. In the case of Key West it's a "twofer" – this place is magnet for boaters, a lot of whom we've met along our trip adventures, as well as friends from home trying to escape the drudgery of winter to soak up some sun. So, having friends come to vacation where we are staying for the winter brought a much needed feeling of home.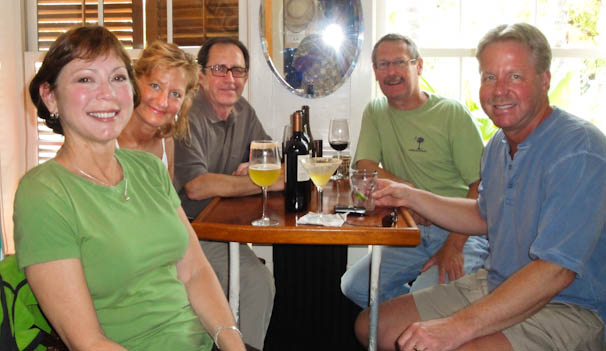 We all met at the Tarpon Bar, downtown, for St. Patty's Day festivities. (side note: some of us are obviously more Irish than others). (From left to right: Lisa, Denise, Rick, Jim and Jeff.)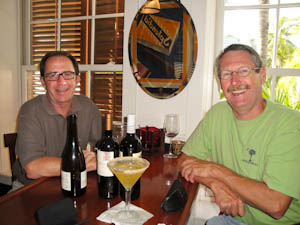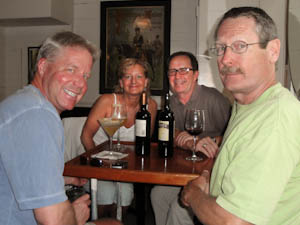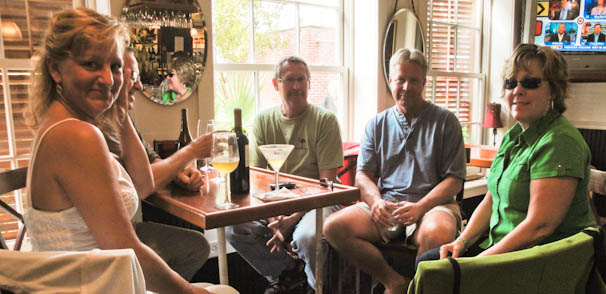 Our homeport dock mates (Charlevoix, Michigan) have long since abanded the idea that we'll have our boat back in our slip in Charlevoix any time soon so it was nice to be able to see them here in Key West. Gary and Jean (Jean, above right joined us later) arrived in the Keys first, they are staying in a condo downtown –  for 5 weeks. So our home base is starting to grow. Next our friend Rick Garton (a fellow Fathom owner who is docked at A&B Marina in Key West) arrived followed by Jeff and Denise who flew in for a weeks vacation. We've docked next to, boated with and have known them all for the last 6-7  years so it will be nice to have our boating friends nearby.
It's nice to have a home away from home for a while, but while traveling long distances we're often reminded of Dorothy, from the Wizord of Oz's saying, "There's no place like home."