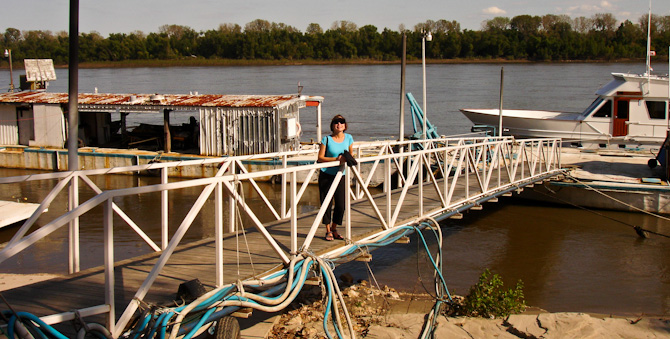 Hoppies, located on the Mississippi River at Kimmswick, MO, is an important part of American river history. For several decades they have played a major role in helping boaters transverse the mighty Mississippi, by providing the last available fuel stop on the Upper Mississippi River. Fern and Hoppie also provide a valuable educational resource for boaters unfamiliar with the particulars of the Mississippi. When Fern gives her daily "captain's meeting" during happy hour, on the open air dock, questions are freely asked and answers expertly given.
This valuable boating resource is in jeopardy of closing due to the addition, by the Army Corps of Engineers, of dikes which are pushing silt towards their docks also reducing the depth of water around the marina.
Without Hoppies, doing the Great Loop, or any major river cruising north and south in this stretch of water from Alton, IL to south of the Ohio River junction, will be practically impossible for a large number of boaters in the future.
Saving Hoppies is much more than about preserving a long standing business it is doing what is right for the maritime heritage of our country so future boating generations can benefit from the wonders of navigating the great Mississippi River.