Happy Hour on Reel Estate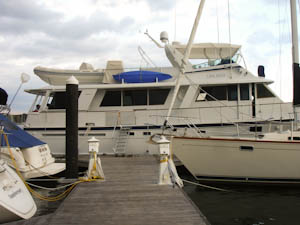 We have had some interesting neighbors while spending the summer at Solomon's Yachting Center especially Ron and Suzy Striegel on their beautiful Hatteras yacht, Reel Estate. Ron and Suzy invited us over for Happy Hour while Scott and Angie were here and we were all captivated, not only by the spread of hors d'œuvres and Golden Margaritas, by their boating stories and experiences.
They showed us photos of 9/11 as they were transiting down the Hudson River past Manhattan during the disaster. We have never seen photos like these, from this perspective. They have consecutive photos showing the towers being hit all the way to the big smoke and debris cloud that totally obscured the island. AMAZING!
Ron and Suzy have lived on their boat almost twenty years and have traveled up and down the ICW about twenty-eight times. The Striegel's share our passion for living aboard while cruising America's waterways.