Happy Hour is Truly a "Happy Time"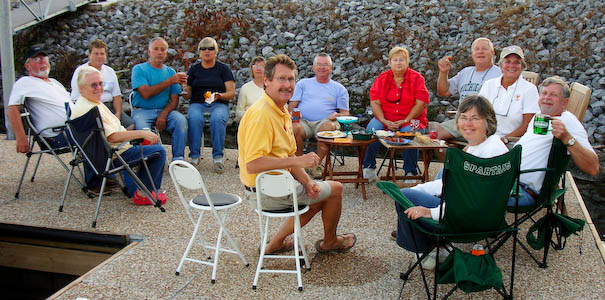 Not more than ten minutes after helping each other tie up chairs, tables, food and drinks appeared on the dock. Everyone was eager for Happy Hour and with this group it truly is "Happy." 
We were really excited when Louis and Diane on Bella Luna invited us to travel up the Tennessee River to Chattanooga with their caravan. Most of them have been traveling together on and off (mostly on) since they left North Carolina where three of the boats are from. I (Lisa, Jim was away at a boat show) had met four of these boats, (Bella Luna, C-Life, Sunshine and Wanderin' L&M) in Charlevoix when they stopped for an extended stay last August. I knew immediately that we would like to catch up to them at some point so that we would have a chance to get to know them better and share a little bit of this adventure together. In the meantime we have also gotten to know Freedom's Turn, and just recently met Going There.
Starting from the left (above) is Lois and Bob on Going There, Shelly, Bud and Muriel on Sunshine, Kay and Robert on C-Life, Margie (husband Larry missing in photo) on Wanderin L&M, Louis and Diane on Bella Luna, and Charlie and Linda on Freedom's Turn and of course Jim in the middle.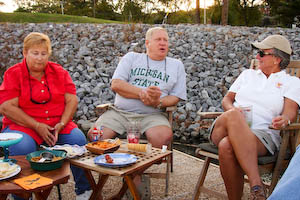 We had a brisk walk this morning as the weather has cooled off quite a bit but still very pleasant.