We left on Tuesday morning with our friends from Freedom's Turn to make our way to an anchorage in Great Sale Cay, an island in the middle of the Little Bahama Bank, 50 miles away from the West End.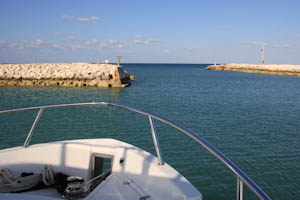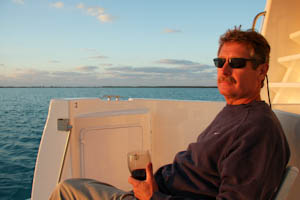 One enters the Bank from the Ocean through a break in the coral reef about a mile north of West End. The channel is narrow and the water is shallow so it's important to take your time when navigating up onto the bank. The depth ranges from 5 and 6 feet to 12 feet for as far as the eye can see.
Once settled into our anchorage we prepare ourselves for two very special treats. Watching the sunset descend into an unincumbered horizon… no houses, no artificial lights, no one else here but us and the five boats at anchor here in this little piece of paradise, its worth every minute of the effort to get here. Our next visual treat happens just before bedtime when it's the darkest out. We step out onto our cockpit to gaize into the night sky to witness mother nature's brilliant light show of stars, again enhanced by the remoteness of our anchorage.