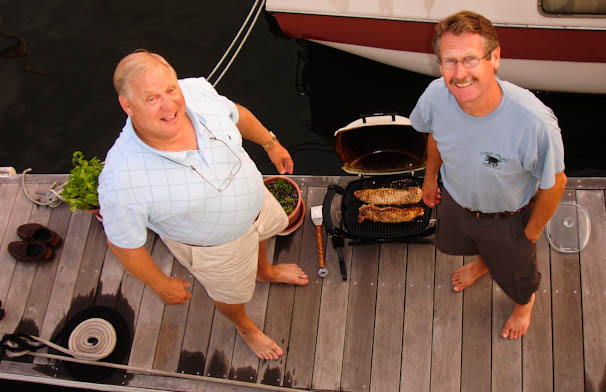 We last saw the Wade's as they waved goodbye to us from the docks of their Morehead City homeport marina back in May, so we were excited when Louis and Diane said they could come to Solomons for a visit. They called upon their noon-time arrival so we met them for a two-hour get-caught-up lunch, lots of laughs about our shared boating experiences and discussion of future plans. Later we all met back on Kismet for cocktails and one of Lisa's fabulous dinners, more conversation, stories and laughter.
This is what it is like when you have choosen the Looper or cruising lifestyle. New and old friends seem to appear out of nowhere but they are mostly coming or mostly going as you are doing the same. So, we all know in our hearts that we must make the best of the time we have together and oftentimes we end up playing and laughing like kids at recess.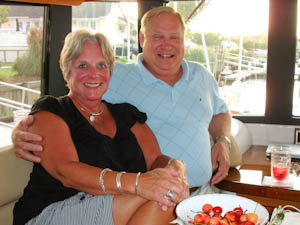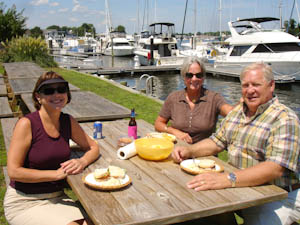 When you're on the Great Loop there are an endless array of museums to visit along the route and once one returns home you can start to have museum withdrawal so Lisa and I took the Wade's to the Calvert Maritime Museum for a little fix. The Calvert Museum is a wonderful museum that's dedicated to the Chesapeake and Solomons area water heritage and we were not disappointed. Later that evening it was off to Vera's White Sands for dinner and more fun. However the real fun started when we returned to the boat to play a dice game called greed. Unfortunately we were not very gracious hosts as the Wade's never won a game but we did have a good time.
          Louis said that we should have worded the above this way…
          "Although we have played the game on three occasions now, the Wades thoroughly trounced us on two of those occasions.  This third time, because of Louis' position on the board, the Favors were able to squeak out a win." 
Before we knew it Louis and Diane were pulling away from our marina in the Solomons and it was our turn to be the ones standing on the dock waving goodbye. We are all excited that we are planning to head south together, in the fall, to explore the St. John's River in Florida. Time sure flies when you're having a good time, especially when you're sharing it with good friends. Ya'll come back soon.