Good News, Great News & More News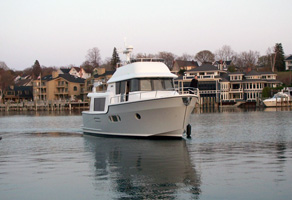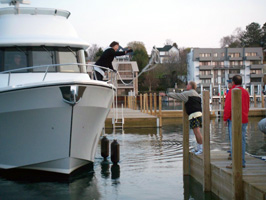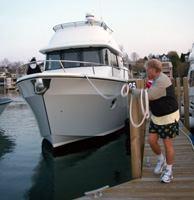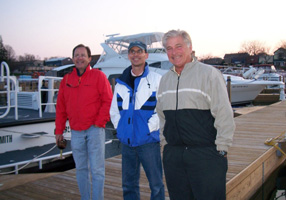 After five days of driving across America, two days re-commissioning Kismet upon it's arrival and launch in Manitowoc, Wisconsin and four days waiting on a good weather window to cross Lake Michigan we left the friendly folks of Wisconsin this morning for the 150 mile run across Lake Michigan to our home port of Charlevoix, Michigan.
We started out with 2 to 4 footers that eventually dropped down to 1 to 3 feet. Our new Fathom handled the run with simplistic east as we ran at 11 to 15.5 MPH, fast enough to make the eleven-and-a-half hour trip during a blue skied, crisp, spring day.
The joy of seeing the Sleeping Bear Sand Dunes appear before our eyes as we pressed eastward towards the Leelanau Peninsula and the comfortable surroundings of our home state of Michigan, put smiles on our faces, mostly me because Lisa was napping at the time. We've been away for five months and have missed our family and friends and Kismet seemed to sense our anticipation as we drew closer.
Upon arrival into Round Lake and as we neared our slip we were surprised by a welcoming committee of Hal, our ever friendly Harbormaster, our slip mates and friends Jean and Gary as well as our friend Rick. (Photos by Jean Ziegler)