Getting the Most out of Cruising Georgia
Whether you're starting your trek north into Georgia now or in the future there are several places you just don't want to miss. Some of our favorite have been the anchorage at Cumberland Island mm 710. Once anchored you can dinghy to shore to walk the National Park Island, visit the Carnegie Mansion ruins and if lucky enough you can see the wild horses roaming the island.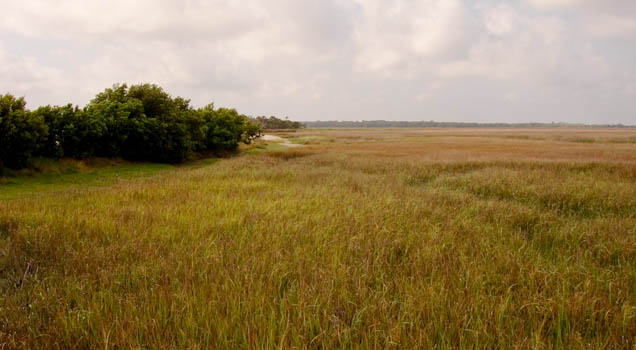 Cumberland Island 's salt marshes are a must see (above).
Just north of Cumberland Island you can dock at Jekyll Island. The marina has bikes available or you can walk to the Jekyll Island Club to see how the really wealthy used to live 100 years ago. They've got a great breakfast that's worth every penny.

We've anchored at New Teakettle at MM647 a few times, a splendid spot to take in the marshlands of Georgia. If you have a long day and want to get a full day in Savanah we've anchored just before Thunderbolt Marina in the Herb River. First thing in the morning head to Thunderbolt for a few days. There's public transportation just up the street from the marina that will take you into downtown Savanah. The best part about Thunderbolt, besides its convenience, are the fresh Krispy Cream donuts they drop off to your boay every morning.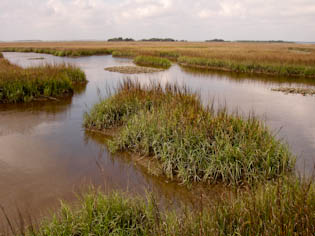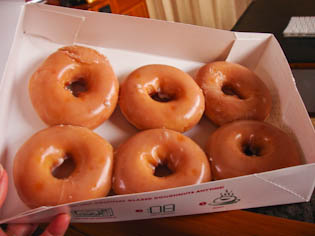 The marshlands in this area are beautiful and so are the Krispy Kreme donuts that are delivered every morning at Thunderbolt Marina.
To read more about this leg of the boating migration north either do a search for "Georgia" or click on April 2009 and/or November 2009 on the left-hand side column. Check back soon, we'll be sharing more of our favorite spots in South and North Carolina next.