There are a lot of important areas of a boat however two of the most important are the galley and head (kitchen and bathroom for you landlubbers).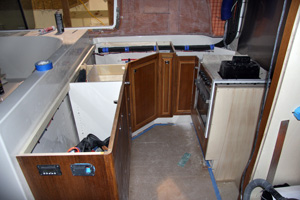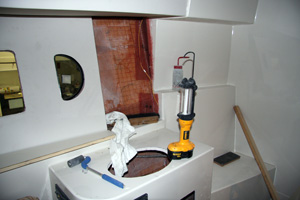 Top-left:  In this photo you are able to see the teak galley cabinets before the granite counter top has been installed. They've also set into place the electric 3-burner stove/oven and, like any construction project, you need to have some imagination as to what the final results will look like.
Top-right:  In this photo you can see a wooden stool to the left – this is not the toilet. If you look closely below the stool you will see that they have installed the toilet and they have also started to trim out the port windows before the cabinet, sink and medicine cabinet are installed. To the immediate right is where the shower and see thru shower door will be located. It's exciting for us to be able to witness the progress, first hand, every week or so and with approximately 4 weeks to launch date things are progressing nicely. Most of the work in the final phase involves trim, finish work, electrical and plumbing.