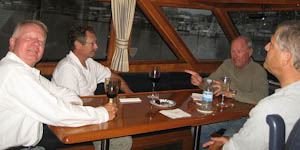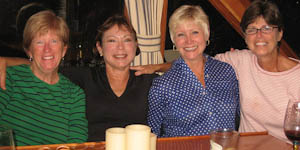 Photos (above) courtesy of Mary Sarver
June brought us several opportunities to share some fun with friends as they passed through the Solomons area either by land or water.
Andy and Mary Sarver, on Good News, Brad and Patti Salvage, on Salvage Crew and Bob and Deb Koerner, on Headquarters all stopped in the Solomons and we were all invited over to Salvage Crew for cocktails and Good News for dinner.
We were surprised to be the recipients of the traveling wine gift that keeps on giving. Given to us by Brad and Patti, we were honored that they picked us to share this tradition.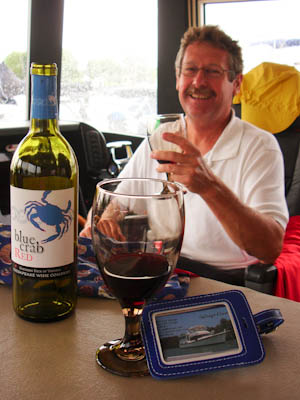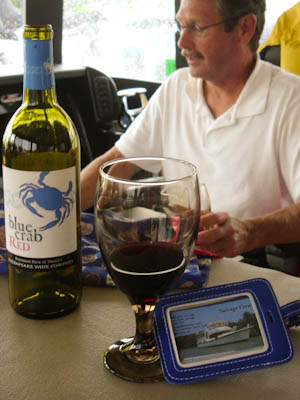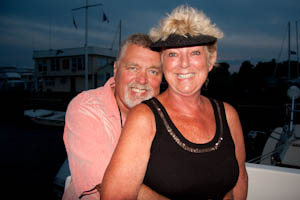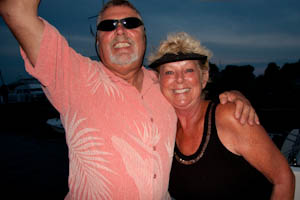 Captain Sterling and Judy, Sterling Lady, stopped by on their way through. Captain Sterling was the first person to buy our book When the Water Calls… We Follow. After getting to meeting him while we were in the Keys we have been keeping track of each other's travels and were happy we had a change to see him again and meet Judy, whom we have heard so much about.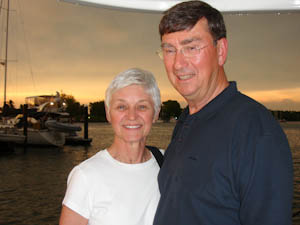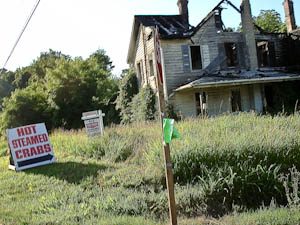 Pat and Craig Holmes, friends from home, stopped by on their way to the Outer Banks by camper. We enjoyed  their visit as we think they are pretty special people who love travel and adventure as much as we do.We got a kick out of this Hot Steamed Crabs sign pointing at this burned down house.