A fun day at the Fathom plant. On our latest visit to Fathom we were able to witness the culmination of 8 weeks of hard work come together to form what is starting to look like a boat.First we took the last photos of the hull's interior before the deck was installed.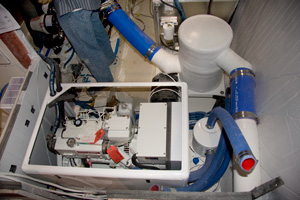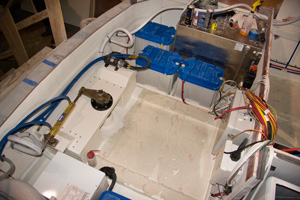 Top-left:  You'll see the engine has been installed, the exhaust hooked up.
Top-right:  The generator.
Bottom-left:   The lazarette which houses the batteries, water tanks etc.
Bottom-right:  You can see the interior wall where the staterooms and head will be.
We took some photos of underneath the top deck mold and mast which was being worked on.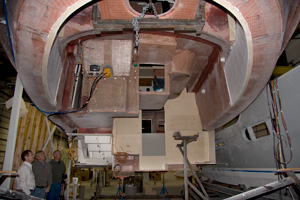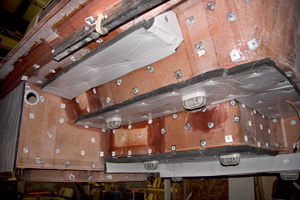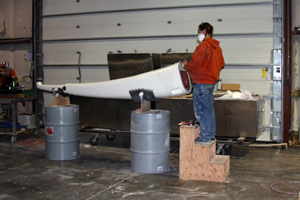 Top-left:  The underside of the bow and pilothouse.
Top-right:>  The underside of the bow where the anchor will go.
Bottom-left:  The underneath of the top deck – the salon which fits right over the engine room.
Bottom-right:  Working on the mast.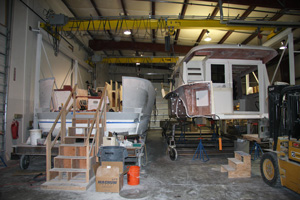 When we arrived Kismet was sitting side-by-side like this (above). To bring the hull and deck together required the work of about 15 technicians – all knowing what their responsibilities were and accomplishing the task in about 2.5 hours.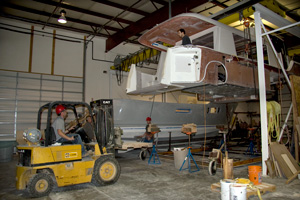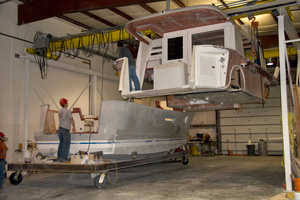 Above-left:  First they raised the deck up off of its work cradle as high as possible.
Above-right:  Then they moved the cradle out from underneath and took it outside.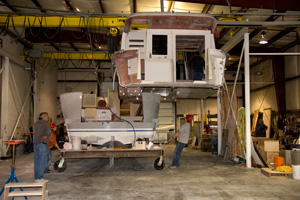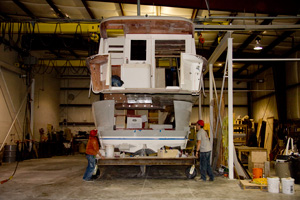 Left:  The next step required moving the hull, which sets on a wheeled cradle, underneath of the top deck.
Right: After careful maneuvering, with only inches of clearance, it is in the position to start lowering the deck down onto the hull.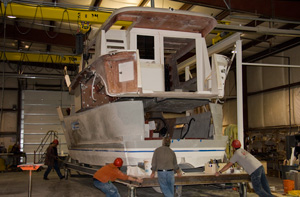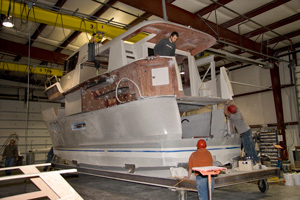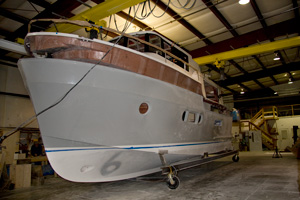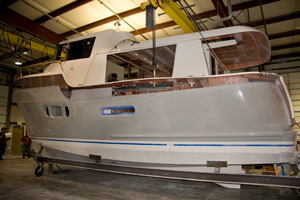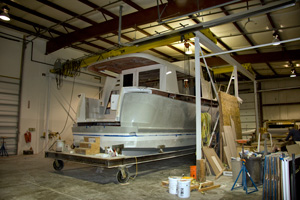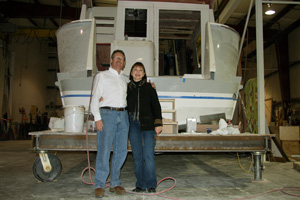 Top-left:  The final steps, of lowering the deck down  into the hull, were amazing. If you imagine a zig-saw puzzle and how all the pieces need to fit precisely this is how the these pieces needed to fit together.
Top-right:   Side view. They lowered the deck down into the hull with only a few minor adjustments.
Middle-left:  Bow fitting.
Middle-right:  Side view.
Bottom-left: Now the Fathom staff is making some trimming, adjustments, etc. to make sure everything fits exactly before lowering into place.
Bottom-right:  Happy owners.
Here are some shots of the interior after the deck is placed on the hull (below).