We have only eighty days until we cast our lines and depart Charlevoix for our new two-year adventure. Even though we have a whole northern Michigan summer season yet to enjoy, departure day is just around the corner. This past week we took care of a few items in preparation for the trip.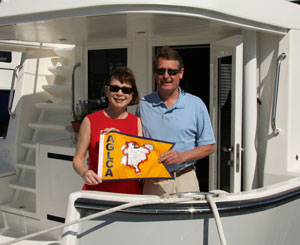 We had recently ordered our new gold AGLCA burgee since we have completed the Loop once already we are now "gold" members. After much thought and discussion as to how it should be mounted on the new boat Jim decided that it would look best on the upper mast area. As usual he was right.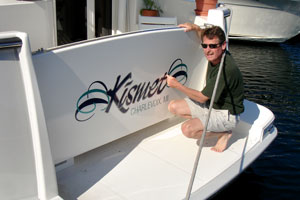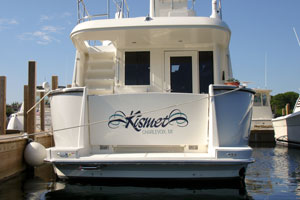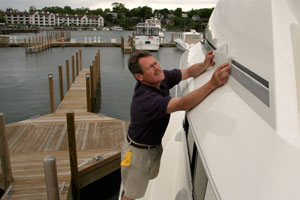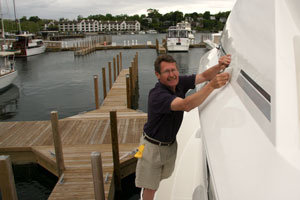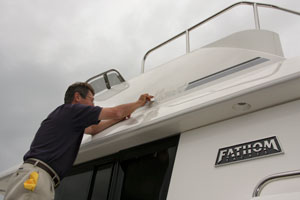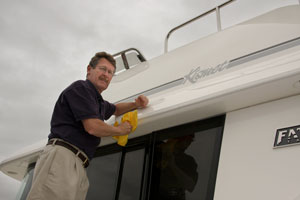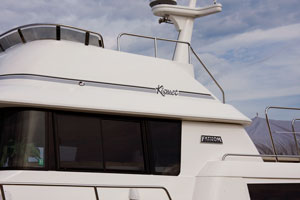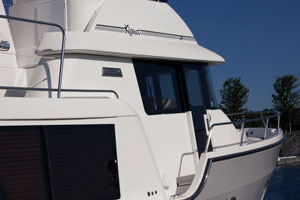 First after much debate over changing our boat's signage and agonizing over shapes and colors, with the help of our friends Mike & Lynne, we finalized the design and ordered the vinyl. We decided to do the install ourselves with the help of our son Skyler. Have you ever applied this vinyl yourselves? Well we knew it would be a learning experience with some frustration… and it was. We only messed up one little logo that goes on the side of the flybridge. After that we got the hang of it. We left the large, three layered, logo that went on the stern for last and it went up without a hitch. Jim had someone install some striping on the flybridge by the name and we are good to go.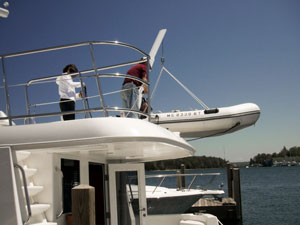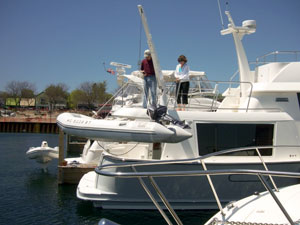 We got our Dinghy mount installed and played with pulling it up and lowering it down. We are pleased with the system we used, it's called SoftChocks. We can remove it when we don't have the dinghy up there for long periods to give more room on the deck if we need it. (Photos courtesy of Gary and Jean Ziegler)