Dropping Anchor – South Carolina Salt Marshes – DeWeese Creek

It's nice to be back on the water visiting all of our favorite southern towns. In-between marina stops we have been anchoring in the breathtaking salt marshes where we find it pretty easy to feel at one with Mother Nature.
Today found us dropping our anchor in DeWeese Creek for one night before we move on to Charleston, South Carolina for t least a five-day stop. Kismet dropped anchor first and Bella Luna tied up starboard to port.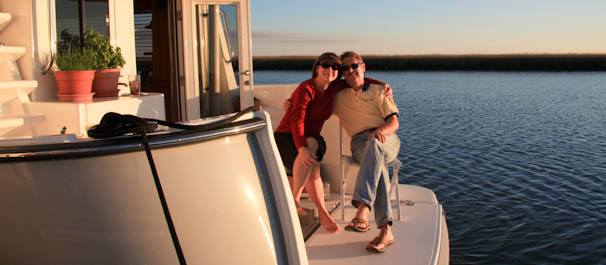 Cocktails tonight were on the cockpits of Kismet and Bella Luna tonight. We relaxed and watched the sunset together. In our opinion It really does not get any better than this.
It's till quite warm out here on the ICW and we are very thankful for the good weather we have been experiencing on this run down the coast. As we mentioned before, there are a lot of boats migrating south this time of year so we find ourselves surrounded by the many sail and trawler boats anchored out in this quiet creek tonight. Seven boats join us tonight in our finger of the creek with many more half visible beyond the surrounding low marshes.
Early in the morning we were all excited to lift anchor in anticipation of a few days in Charleston. Bella Luna untied first then Jim and I lifted anchor and got in position to lead the way on our mini caravan south.