Crossing to the Abacos on Valentine's Day
After keeping an eye on the weather for over a week our original plan was to leave Fort Lauderdale on Friday early morning to cross over to the West End in the Abaco Islands. But as Thursday night arrived we started to see that a north wind was showing up on the weather maps. It was still there early Friday morning as we checked again and we all (Freedom's Turn, Charlie and Linda, is our buddy boat) decided to abort and try again on Saturday morning. Plan B worked to our advantage because we had a surprise visit with some friends, Scott & Angie, that we would not have had an opportunity to do with Plan A. So, Friday night's weather check looked good and again on Saturday morning it looked ideal. We were good to go. We left the dock around 6:15 am to follow the winding New River out to the ICW and shortly after, the Port Everglades Inlet which goes out into the ocean.
Saturday, Valentine's Day, was a much better day to cross than was Friday the 13th.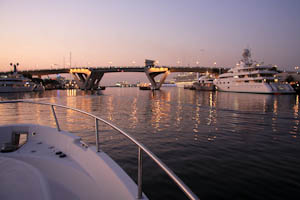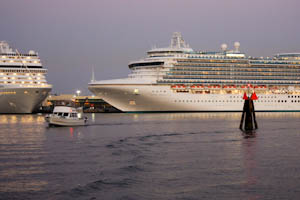 As you can see we had the perfect day. The seas began with rolling waves but not choppy and smoothed out to a very gentle roll half way across and picking up with more wind just before we arrived at the Old Bahama Bay Marina in the West End.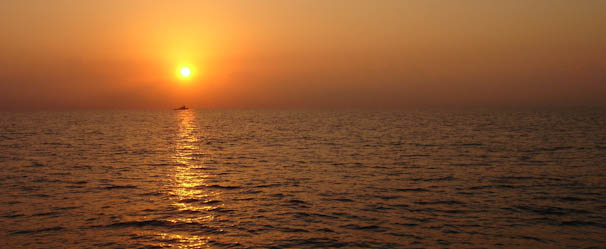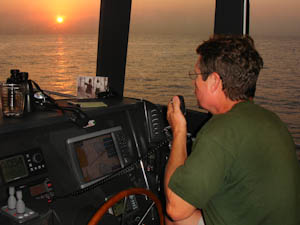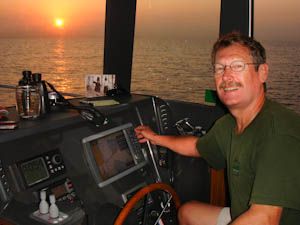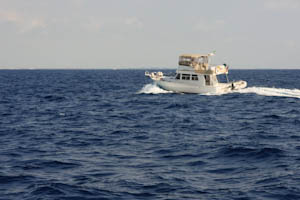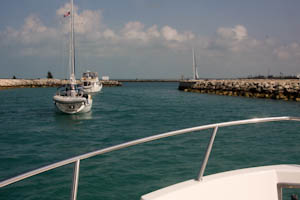 The water has changed from a dark greenish blue to a deep indigo blue, at 2,300 feet it is unusually bright but still a dark blue color with streaks of turquoise running through. We saw schools of flying fish, Portuguese man-of-war jellyfish and a few dolphins.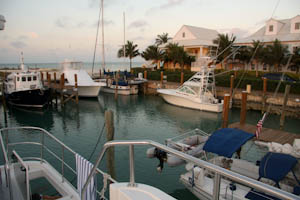 Immediately after checking in with customs we donned our bathing suits and headed to the pool to refresh and relax followed by rum drinks by the pool, compliments of Linda and Charlie and a Successful Crossing/Valentine's Day champagne toast on Kismet's flybridge at sunset. Life is good when you can make beautiful memories with friends.