Covered Portage Cove – North Channel

Two miles to the west of Killarney lies Covered Portage Cove, a kunkholers dream. The narrow entrance, that has large boulders protruding from the water makes for an nerve racking entrance for ones first visit but made easier if the cruising guide advice is followed.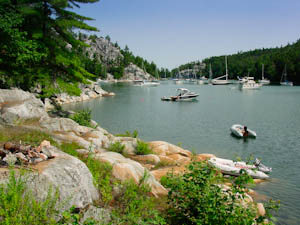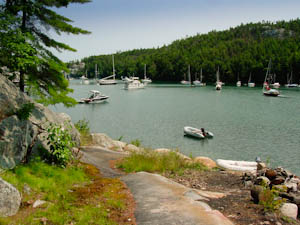 Once inside it's common practice to anchor med-moor style, this giving the greatest amount of room for other boaters as this area can get pretty busy at times. Lisa and I landed our dinghy so we could take advantage of the trails by climbing the rock bluffs up to the their summit. We did not see any bear but there was plenty of the blueberries they love so much. The sight from the top, although a hiking challenge, was well worth the effort, especially being able to see down at all the boats comfortably moored in the completely protected cove.