Captain Sterling's Mangrove Tunnel Tour
We left Marathon on Monday and were headed north to the Tarpon Basin but were diverted from our goal by a call from our friends Wade and Susie on Miss Happ. They were calling to say that they were in our area, actually we soon realized that we were only ten miles apart. They were headed to their slip in Taviner and we decided to cut our day short so that we could see them. We had been trying to connect for the past couple of months without much success. Our week long delay in Marathon actually enabled the meeting. We pulled into their marina shortly after they did and we enjoyed an evening catching up on our trips and at the same time met all their dock mates at their marina.
The next morning we headed to Tarpon Basin, a short ten miles from Taviner. We have been looking forward to meeting Captain Sterling. He has the distinction of being the first person to buy our book when we put it up for sale in July of last year.
We had arranged ahead of time to call him when we arrived in his area. This is also the place where many people had told us about the Mangrove Tunnel. We decided to stop here and meet the Captain and see the tunnel at the same time.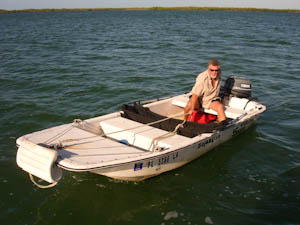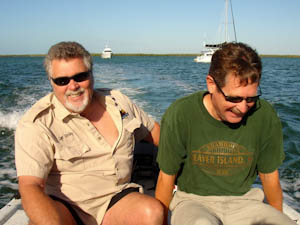 Captain Sterling offered to come out to our boat and take us on the tour. He is the expert tour guide, Capt. Sterling's Everglades Eco-Tours – http://floridakeys.homestead.com, in this area and we definitely had a first class tour. After cruising by so many mangroves the past couple of months to get right inside was absolutely amazing, the photos do not do it justice. We would not have wanted to miss this sight. Thanks Captain Sterling.