Calabash Creek, SC – Anchorage
We remember traveling through this idyllic stretch in 2006 and today we just could not get enough of it. Lisa kept running outside to take photos of the mirror-like water reflecting the clouds and shoreline. Today, for the most part, was mostly uninhabited territory with dreamy fields and woods lining the ICW.
Tonight we sat on the flybridge in our anchorage on Calabash Creek, off of Little River, watching the tide go up with our Kismet now  almost hugging the state line that runs through SC and NC. Since we are about to enter North Carolina we are anticipating a reunion with some dear friends, Louis and Diane Wade, on Bella Luna, in their homeport of Morehead City. For a long time they have been talking to us about visiting them at their homeport when we travel through this area, so we have to make a stop for our "Bella Luna fix."
It was a little rough getting into this anchorage since low tide was at mean low water. We almost got stuck but eventually found the deeper water way in with the help of some of the other boaters already settled in the creek. We are anchored with five sailboats sharing with them a calm night on the hook while enjoying the chatter of birds and the sound of an occasional fishing boat zipping by.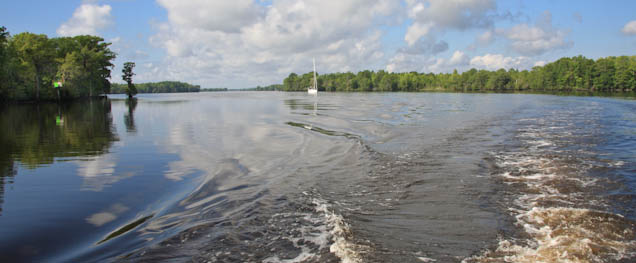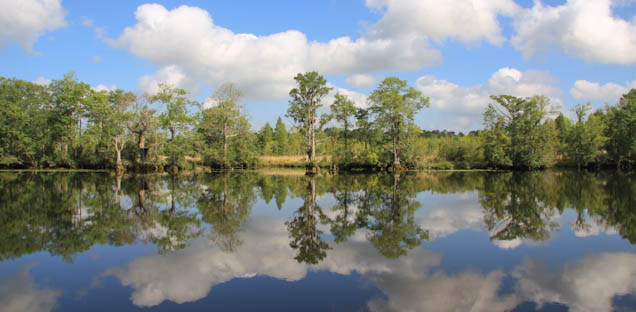 Here we are (below) entering Prince Creek where, last time through, we saw lots of alligators. We didn't see any this time though. Just not the right time of day, we guess, but still this is a nice detour off the ICW for a couple of miles.