Biscayne Bay, Miami and Fort Lauderdale
The divergence of waterway activities from Boca Chita to Fort Lauderdale is remarkable in that the journey started with 15 miles of reef protected open water in the Biscayne Bay to the busy Miami area, up the ICW to Ft Lauderdale (considered one of the boating Mecca's of the world. The Miami skyline grows larger the closer we get and the closer we get the greater our anxieties grow. For six weeks we've been used to the laid back life style of the Keys and today, with the increased boat traffic we are now experiencing and the need to once again negotiate through bridges, our laid back feeling begins to fade.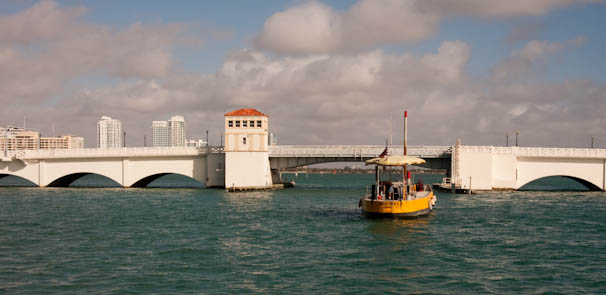 As we work our way through Miami we passed where the in-water boat show was being readied for, we got our own in- water show as we were passed by a couple dozen new vessels heading to the show to be displayed. We had planned on anchoring out in Miami however our extended weather related layover in Marathon changed those plans, maybe next time.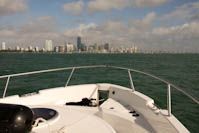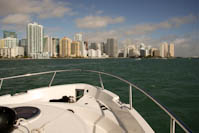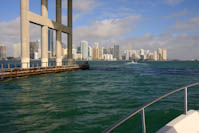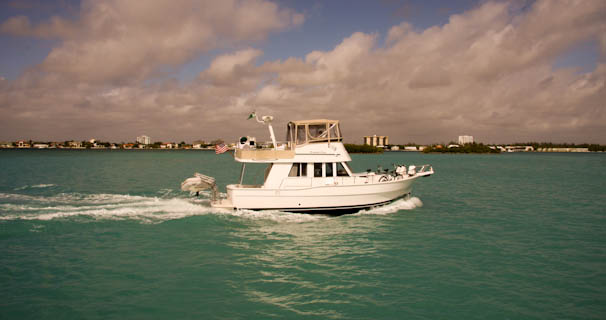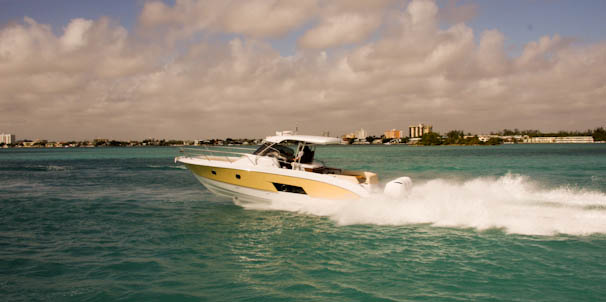 As we approach the Port Everglades Inlet in Fort Lauderdale, also the same inlet we'll leave from when we head to the Bahamas, we're arriving at high tide and the current is running at maximum flow therefore making docking problematic. When you dock in these kinds of situations you need to dock into the current much like a pilot lands a plane into the wind… you'll have better control.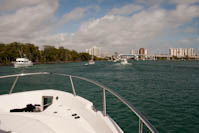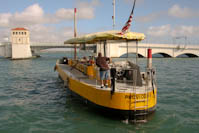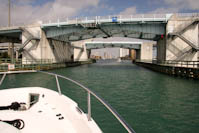 After passing through the container and cruise ship area we head for the New River and Cooley's Landing Marina 2 miles up river, in downtown Fort Lauderdale. The meandering trek takes us past mansions, high-rise condos and the downtown riverwalk as we snake our way past docked and moving boats.  One is not quite sure what to expect around each waiting curve in the river, what bridge will be next and will there be enough clearance to slip under it. The place is busy, no time to relax. As the current is running a full flow we decide to tie up on a wall and wait for slack tide before we settle into our dock for the night. It was probably a good idea as we watched several other boats struggle with the process.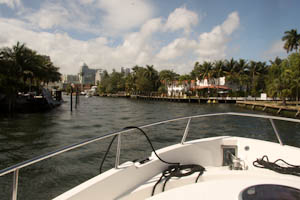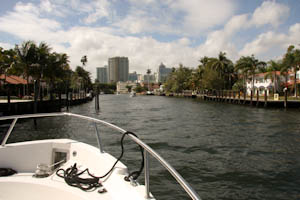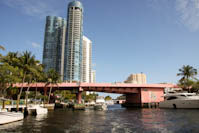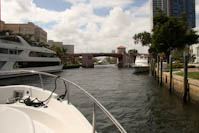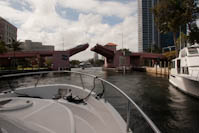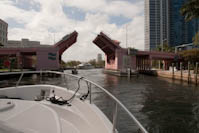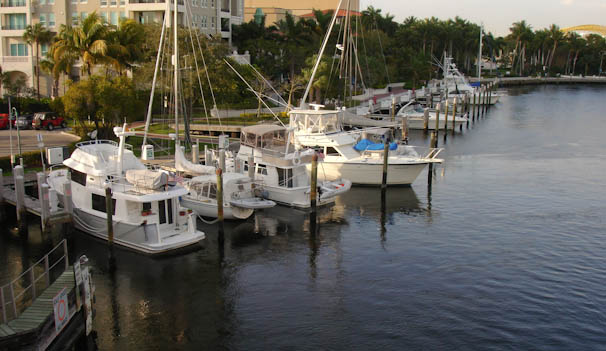 We were surprised when our friends Scott and Angie (below), from Charlevoix, called to say they were in Fort Lauderdale. We were happy to see them and catch up on each other's lives.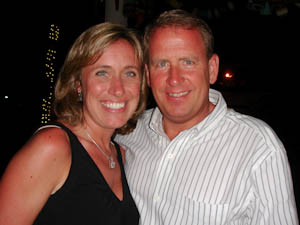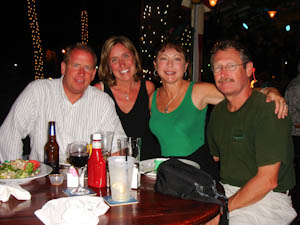 Harold and Cheryl, Victory (below-left), whom we first met in 2006 while on our Loop, live in Fort Lauderdale and they invited Charlie and Linda from Freedom's Turn along with us over for dinner. They live right on the inlet that leads to and from the Ocean, what a view! The next morning Cheryl chauffeured us around in order to help us with last minute errands, which was greatly appreciated. It's nice to have friends along the Loop route who are always generous with their time.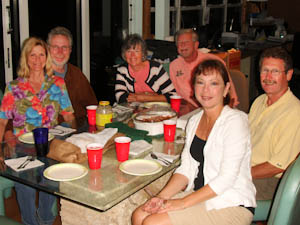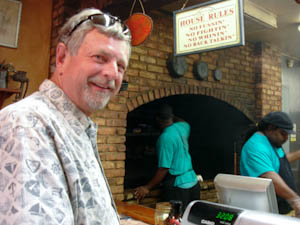 We introduced Charlie and Linda (Top left and below), to Tom Jenkins a BBQ restaurant we found our last time in Florida. It was as good as we remembered.