Back to Kentucky Lakes and Tennessee River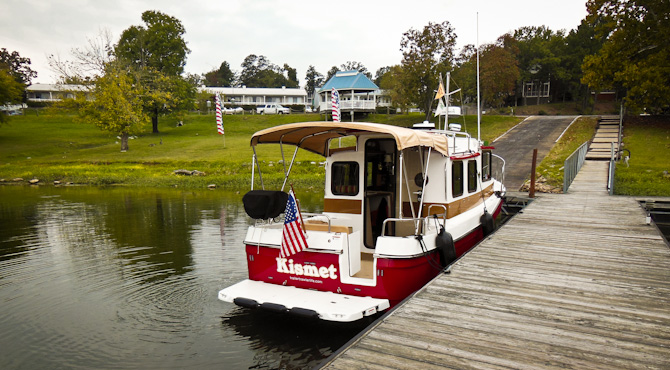 After trailering our Kismet south 680 miles, we launched her at Green Turtle Marina in Grand Rivers, Kentucky, a place we've had the pleasure of visiting twice before while on both of our Great Loop trips. We felt a little sheepish driving in to launch our boat at the marina after only a two=day drive when we knew all the Loopers docked at the marina had taken a great deal of time and effort coming down Lake Michigan, the Illinois Water system and the Mississippi, Ohio and Cumberland Rivers to get here. For those Loopers it would have been two weeks minimum just in the river system. None the less, we were greeted with friendly hello's and offers of help getting situated, which made us feel very welcomed as we met up with this group of Loopers who were making the long trek south. We could tell the excitement of those Loopers was at full throttle by the stories we heard them telling and the questions they were asking, it made us feel as if it was just yesterday that we had arrived at this spot for the very first time.
It felt good being back in this area, better known as the "Land Between the Lakes" or "Kentucky Lakes." Not much has changed in Grand Rivers, even the pork chops at Patti's were as good as we remembered from our prior visits. The particulars of doing the Loop doesn't really change much except for the cast of players cruising the waterways. When we leave here we'll be heading towards the Tennessee River which we last cruised in the fall of 2008.
To view additional posts and photos from our previous Loop trips in this area simply type in River System or Tennessee River in the search box to the left. Or visit our other blog, Trailer Trawler Life for postings on this trip down the Tennessee River.
Looper boats line the dock at Green Turtle Marina, with at least 15 to 20 boats in place when we arrived.
I met K.C., (above) on Jet Stream, one morning while I was working on the boat, we talked through the window and exchanged boat cards. Bruce, (below) on Tango, was our dock mate, he's doing the Loop boat trip in this 25-foot sailboat. Bruce is a great example of the spirit and determination it takes to do a 6,000-mile boat trip. We hope to bump into these two Loopers again, and several more, as we make our way down the Tennessee River to Joe Wheeler in Rogersville, Alabama for the AGLCA (America's Great Loop Cruisers' Association) 2012 Fall Rendezvous.