Here I am with my dad boating on Lake Chemung.
When I was a child, our family would drive to Lake Chemung (Howell, Michigan) to spend summer weekends, a family event I always enjoyed. Like many things children look forward to, like getting to the lake, it never seemed to happen soon enough. If I said it once I'd bet I said it a hundred times, "Are we there yet?" and I'm beginning to feel the same way about heading out west to get back to boating. This time with our Ranger Tug R27 trailerable trawler.
Later this summer we plan to drive 2,400 miles to Kent, Washington and pick up the R27. We'd like to get onto the water just as soon as we can get the boat into the Puget Sound. Gig Harbor will be our first stop, we'll spend three days getting familiar with our new boat while exploring a port we've not visited before. As it worked out MTOA (Marine Trawlers Owners Association) is having a Rendezvous that weekend in Gig Harbor. As members we've only attended one other MTOA Rendezvous, Crisfield, Maryland 2009, and it was a lot of fun.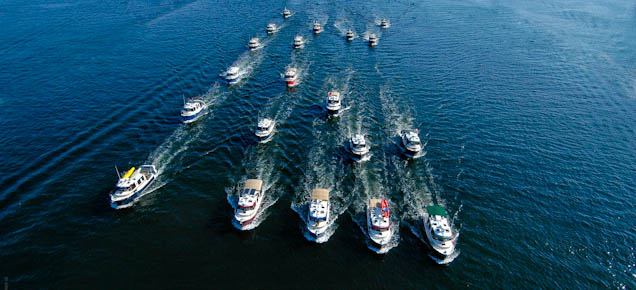 Above photos of a Ranger Tug Rendezvous, coutesy of Herb Stark.
Hoping to have a bit of the new boat learning curve behind us quickly we'll cruise north and return to the San Juan Islands, a wonderful cruising area we had the pleasure of exploring in 2007 – it will be great to get some more cruising time in this area. Before we leave Washington State, we'll also attend the Ranger Tugs Pacific Northwest Rendezvous in Bremerton, Washington. This will be a great opportunity to meet over 40 fellow Ranger Tug owners and learn about their favorite boating experiences. We'll then trailer our new Kismet south, visiting our son, Ross, in Portland, Oregon where he's suggested we cruise up the Columbia River, through the beautiful Gorge. After that it's on to Lake Tahoe and then over to Lake Powell for more new cruising experiences before we head east for a return to the Tennessee River cruising grounds and another AGLCA Fall Rendezvous.
We find ourselves spending a lot of our free time going over charts and planning routes. Lisa's also itching to get back on the water. She'd been on a little bit of a hiatus from photography and is now itching to get her gear ready to record all the new adventures and boaters we'll encounter.