Bella Luna, C-Life, Sunshine and Wanderin' L&M, Our Turn, Blue Max, Footloose, Highlander and Shore Thing are all boats that we've had the pleasure to travel, dock, anchor, sightsee and laugh with over the last five months. They have become friends and we look forward, with great anticipation, to meeting up with them whenever possible. Because of this we were excited to leave Key West and head for Marathon where all of these boats were docked for a month or more.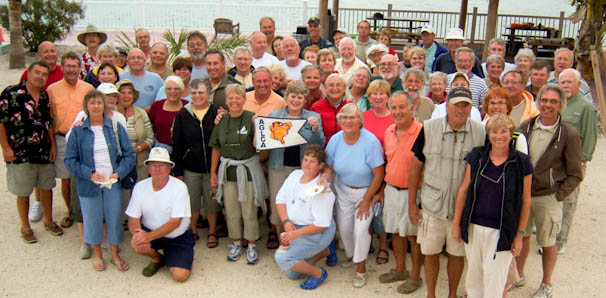 (

Above Photo: Courtesy of Joe and Mary Beth Amelia)
When we arrived at Marathon we were just in time for a Looper Happy Hour. Thirty-four boats in attendance with about sixty-six people signed in. Loopers love a good time. It was kind of a reunion of sorts for us since we were able to reconnect with some boaters that we had met coming down the river system in the fall. Unfortunately we were so busy reconnecting with those we knew that there wasn't much time to make many new connections tonight.