AGLCA's Spring Rendezvous & Reunion SPECIAL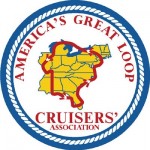 NORFOLK, VA., MAY 7 – 10, 2012:  America's Great Loop Cruisers' Association will once again be holding its annual Spring Rendezvous & Reunion in the vibrant and exciting waterfront city of Norfolk, Va. This event, held at the Sheraton Waterside Hotel and the Waterside Marina, was attended by over 225 members last year. This year they are offering boaters in the surrounding area a unique opportunity: attend the Rendezvous and receive a free, one-year membership!
AGLCA Spring Rendezvous & Reunion




May 7 – 10, 2012




Norfolk, Virginia 
This year's event will feature seminars on navigating Chesapeake Bay, Delaware Bay, NJ, NY, the Hudson River and Canadian Canals, Entering Canada and Returning to the US, Lake Michigan, the Inland River System, Engine Maintenance, Marine Fuel, Provisioning for your Boat – Spare Parts and Buying Your Boat.
There will also be cocktail receptions, lunches, dinners, awards, door prizes, unmatched camaraderie, impromptu "concerts", Looper Crawls, Vessel Safety Checks, and more!
Complete information on the event is available at GreatLoop.org, Rendezvous & Events, Spring 2012 Rendezvous & Reunion. The rate for attendance is $369 per person. Your registration fee includes:
• All seminars




• All group events




• Access to AGLCA Ship's Store on site




• Access to vendor displays




• Six meals




• AND A FREE ONE-YEAR MEMBERSHIP!
To take advantage of this offer, go to:
Rendezvous SIGN UP FORM
Simply fill in the form and submit. A representative will be in touch to sign you up for your
Rendezvous attendance and Free Membership!
America's Great Loop Cruisers' Association (AGLCA)TM is an organization of people who share a sense of adventure and a curiosity about America's Great Loop. Our association's primary purpose is to disseminate information and enhance the overall experience for those learning about, dreaming of, as well as exploring and safely cruising —America's Great Loop. For more information visit www.GreatLoop.org.
P5APKYG63HKB