Tradition dictates that a christening ceremony be performed for new boats.
For thousands of years, we have gone to sea. We have crafted vessels to carry us and we have called them by name. These ships will nurture and care for us through perilous seas, and so we affectionately call them "she." To them we toast, and ask to celebrate KISMET. 

Then everybody raises their plastic glass filled with champagne or your favorite non-alcoholic beverage and shouts, 

To the Sailors of old… to KISMET

Everybody takes a sip.

The moods of the sea are many, from tranquil to violent. We ask that this ship be given the strength to carry on. The keel is strong and she keeps out the pressures of the sea. 

Again the glasses are raised, and the assemblage shouts, 

To the Sea…To the sailors of old… to the Sea! 

Everybody takes another sip. 

Today we come to name this lady KISMET, and send her to sea to be cared for, and to care for the FAVORS family. We ask the sailors of old and the mood of God that is the sea to accept KISMET as her name, to help her through her passages, and allow her to return with her crew safely.

Again, with the raising of the glasses, 

To the sea…To the sailors before us… to KISMET.

A last, long sip by all.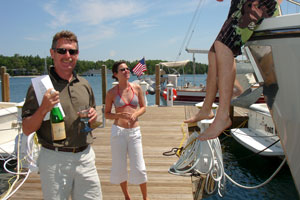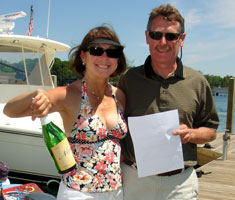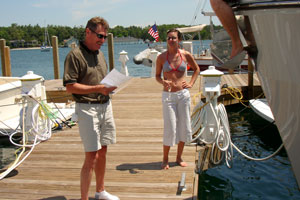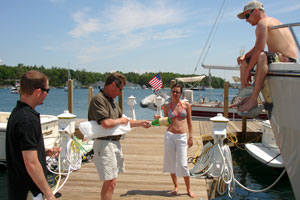 A christening asks the powers that be to protect a new boat along with the owners and their guests from peril at sea. With the help of our sons Skyler and Ross, two of our three sons, along with Ross' girlfriend Brooklyn we had Kismet's christening on Saturday July 5th. The ceremony brings us that much closer to being prepared for our September Great Loop trip.
OSCAR – Our family has its own tradition… it is the awarding of Oscar. Oscar is a goofy looking moose trophy (which has taken a lot of abuse over the years – but this has just added character in our opinion) that our immediate family members pass back and forth on an annual basis. Oscar is awarded by the current holder, in this case Skyler (for his college graduation), to a new recepient for doing something exceptional or deserving over the past year. On Saturday morning during breakfast Skyler pulled Oscar out and awarded him to Ross for his new promotion as Executive Sous Chef at his current place of employment, Pizzicato. After residing in Michigan for several years Oscar again makes his third trip out west, this time to Portland, Oregon, Ross' home town.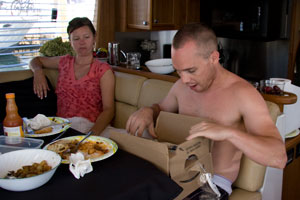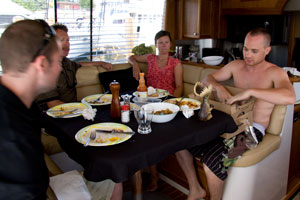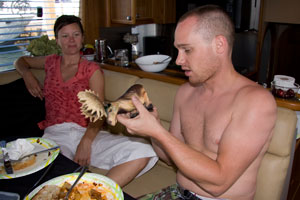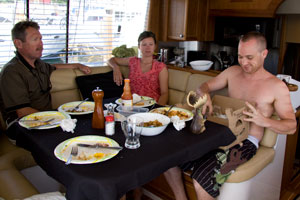 Oscar comes with the responsibility of protecting him until the pass to the next recepient. Kind of like hocky's Stanley Cup! However there are a few perks for the holder of Oscar that offset all the responsibilities. Oscar makes for a great conversation piece in the current holder's home and we like to think that we all try a little harder at our endeavors so that we might be awarded the recognition associated with the funny looking moose.